The Eagles have undergone a dramatic change in philosophy under new head coach Chip Kelly, as the offense shifts to an attack that features the run and balanced play-calling. While Kelly in all likelihood won't call nearly 65 percent run plays like he did his final season at the University of Oregon, the run-pass ratio should hover around the 50-50 mark, if not a little more skewed in favor of the run.
Given the up-tempo pace the Eagles are employing on offense, there will be an increased number of snaps and therefore an increased number of carries to go around. That makes depth at running back crucial, and the Eagles enter 2013 with perhaps their best collection of talent at the position in a decade. LeSean McCoy and Bryce Brown are entrenched at the top of the depth chart, but second-year player Chris Polk has had an excellent Training Camp to this point and is making a strong case to have a regular role in the offense. Felix Jones was a free agent signing after spending the first five years of his career with the Dallas Cowboys, while Matthew Tucker was scooped up as an undrafted free agent after a solid career at TCU.
McCoy has been his usually elusive self in Training Camp, exploding through holes, making quick cuts, showcasing unbelievable lateral agility and catching the ball smoothly out the backfield. He figures to easily eclipse his career-high of 273 carries and is primed for a season that should rival his record-setting 2011 campaign.
Everyone knows what to expect from McCoy, so the real focus of Training Camp has been on the other four running backs. Brown is acknowledged as the number two, and a major part of how he progresses in 2013 will be the extent to which he matures as a runner. In addition to ball security woes in 2012, Brown too often tried to bounce outside instead of attacking the hole, however slim, that opened up between the tackles. Though there have been similar instances of that during Training Camp, Brown has also displayed a far greater willingness to hit the hole immediately, as well as the cutback vision necessary to turn short gains into long runs. Brown understands he has to follow what the scheme dictates in order to maximize his chances for success.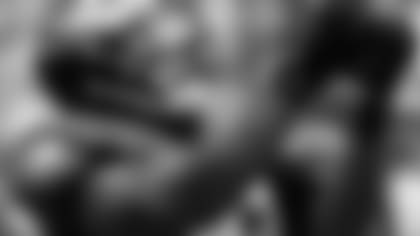 "The offense as a whole allows players to be players, just to do their best," Brown said. "If you see (the hole), wherever it's at, if you see it, if you feel it, just (be) instinctive, and you just have to make a play. As far as inside, outside, with the way this offense is, (the hole) could be anywhere. You have to be in tune, have to be disciplined to your keys and everything will open itself up."
While Brown was the popular choice to excel in Kelly's offense, it is Chris Polk who has turned heads and generated the most buzz in Training Camp. He has certainly caught the attention of Brown.
"Chris has made a lot of progress," Brown said. "Chris is doing good. He's working real, real hard and he's growing as a player. I'm excited for him coming up this season. He unfortunately got hurt last year ... but he's going to surprise a lot of people. He's a great running back, and he's going to contribute a lot as far as in our offense and things like that. He runs with a lot of power ... and when you look at him, you might not think that he moves pretty fast, but he has deceptive feet. He can run ... and I think a lot of guys when they see him will take his speed for granted, which will allow him to get around the corner."
Polk remains a one-cut runner with the power to lower his shoulder to plow through tacklers, but he is now noticeably quicker, swifter and faster, showing agility and a gear that was simply not present last season. Polk is down to 216 pounds, his lightest playing weight since before college. He said the coaching staff did not even have to urge him to lose the weight, but that it was something he did on his own because, "I felt like I was too big last year, I couldn't stand the way I looked on film." Polk is one of many players who adhered to Kelly's emphasis on nutrition – he's eating more "fruits, salads and oatmeal" – and embraced the offseason training program. The results speak for themselves.
"I feel a lot better," Polk said. "I lost 15 pounds, but I still got my strength. My style is one cut, get up field. I'm more of a balanced (runner), speed and power. I can also catch. Losing weight, that was just something personally I wanted to do. I feel better and there's always room for improvement just to be healthier because this is a long season, so you really have to take care of your body."
When asked what, specifically, he notices as having changed the most, Polk echoed the general sentiment among observers and said he's "a lot quicker, lateral movement's way better, pick-up speed is way better."
As Polk mentioned, he also is a natural receiver out of the backfield, having accumulated 68 catches for 683 yards over his three seasons as a starter at the University of Washington. He has dropped very few passes in Training Camp and consistently displays textbook catch technique, extending his arms away from his body and plucking the ball with his hands instead of body-catching.
"I always extend because ... (going into) college I was recruited as a receiver and running back," Polk said. "I only played running back one year in high school. ... I played three years (in high school) but was a receiver two years. My senior year, I turned into a running back."
Polk's determination to become a contributor as an NFL running back, instead of just a special teams player, was manifested in how hard he worked on his body during the offseason. He's drawn praise for his Training Camp performance from Kelly, who is intimately familiar with what Polk brings to the table and heavily recruited him to the University of Oregon. In fact, Polk said that if he did not choose the University of Washington, he would have gone and played for Kelly's Ducks. Every facet of Polk's game has improved, including his pass blocking, which is necessary for any young running back trying to get on the field.
"I sat all last year, I'm not trying to do that again," Polk said.
As far as a player for Polk to emulate, there is none better than running backs coach Duce Staley, who strongly recommended to general manager Howie Roseman to sign Polk following the 2012 NFL Draft. They have similar builds, styles and overall skill sets. Polk is reminiscent of Staley with some of his runs, and teammates have even started calling him "Baby Duce."
"(Staley) hasn't told me yet, but (we) both know," Polk said. "I wouldn't mind being in the same category as him."
Jones and Tucker are listed as fourth and fifth, respectively, on the depth chart. Jones is a savvy, shifty back with pass-catching ability, while Tucker is a big, physical, powerful, between-the-tackles runner who flashes some sneaky quickness through the hole.
No matter how many running backs make the final roster, it feels as though Kelly will utilize that depth to his advantage, and the offense should boast its most deadly rushing attack since the 2003 season's three-headed monster of Brian Westbrook, Correll Buckhalter and Staley.