Four players have been ruled out for Thursday's preseason game with Carolina, and another two are no better than questionable to play. Head coach Andy Reid updated his player rotation following Wednesday morning's mock game at the Lehigh University practice fields.
The first-team units on both offense and defense are expected to play the entire first half. However, Donovan McNabb and the offense will be without the services of left tackle Tra Thomas, who is out with back spasms but "getting better," according to Reid.
Given Thomas' status, Todd Herremans will shift from left guard to left tackle and Scott Young will start at left guard. On the right side, Max Jean-Gilles starts at right guard in place of Shawn Andrews.
As for Andrews, Reid was non-committal regarding the Pro Bowl lineman's return to the practice field or even game action.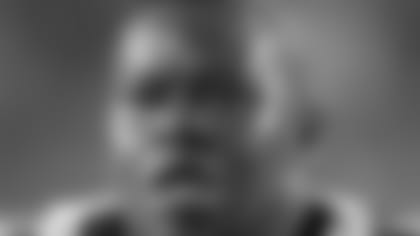 RG Shawn Andrews
"I'm still just trying to get him right," Reid said. "Right now we are just in the process of getting a support staff set up for him in Philadelphia. We have taken and made some direction there, or at least have it going in the right direction there."
Andrews reported to camp Sunday and has spent most of his time working with the strength and conditioning coaches. Reid said he is pleased with Andrews' physical condition.
"He told me he had been working out. We put him through some things here in the last couple of days, so it looks like he's in pretty good shape," Reid said. "I think he has handled the last few days very well, but I'm not naive to the problem either. I want to make sure everything is set up for him so that he has a foundation there that he can bank on."
Meanwhile, Reid acknowledged the importance of having all five of his projected opening day starting linemen play together in a preseason game.
"If I had my choice, I'd much rather have them do that," Reid said. "If it doesn't (happen), I think we'll still be okay since they have played together in years past."
In other news on the offensive side, receiver Jason Avant is questionable due to hamstring spasms and receiver Jamal Jones is doubtful with a rib injury.
Reid also said he would like to get backup quarterback Kevin Kolb as much action as possible, perhaps the entire second half.
"I will try to get the second quarterback extensive playing time, whether it is a whole half or not," Reid said. "We will see how things go."
On defense, Asante Samuel will make his Eagles' debut, starting at left cornerback. Reid said Sheldon Brown will start opposite Samuel, with Lito Sheppard playing in nickel situations.
Reid said he hopes to get a full half out of Samuel, who missed much of camp with a hamstring injury.
"If I think that leg is getting fatigued, or if he is giving an indicator that it is, then we'll get him out of there," Reid said. "I don't want to take any steps back there."
Three defensive players who will not see action include veteran defensive tackle Montae Reagor (knee) and defensive ends Chris Clemons (calf) and Victor Abiamiri (wrist).
The first-team offense accounted for all 10 points in the loss to Pittsburgh last week. However, Reid noted that player evaluations take into account both production and execution.
"They go hand in hand at times," Reid said. "If you're executing well, then you're going to have positive production. That doesn't necessarily mean points. You're going to either move the football, or defensively you're going to stop the other team. You have to look and see where and who that positive production is coming from. There might be four guys who aren't doing quite as well as another couple guys there. You just have to evaluate each player on his own."
"Every day is important for them. The preseason games are put into the evaluation process just like the practices are. It's important that you play well in them. You have to have yourself right, both mentally and physically. We give them a gameplan and they have to memorize the gameplan in one day. You don't have a lot of time to digest it, but at the same time, it gives them at least an opportunity for a heads-up on what plays we have cut out so they can concentrate on certain things and hopefully perform."
Reid did say that he is looking for marked improvement on both special teams and overall team discipline.
"I would like the penalties to be cut back," Reid said. "In the first offensive series we had two penalties and in the first defensive series we had two penalties. We're looking at four penalties in the first two series of the game and a total of 10 penalties in the game. Even though they were try-hard penalties, we have to maintain discipline there."
At the outset of training camp, Reid said it was going to be a physical three weeks. And it lived up to that billing. Fortunately, the team suffered no major injuries during the two-a-day workouts.
The coach commended the players on their work ethic throughout camp.
"One of the positives that came out of this camp was that the guys fought to be out here practicing. If they were nicked up a little bit, they fought like crazy to get back out on the field, particularly the leaders of the football team," Reid said. "That sent a message to the younger guys that it is important that you do this thing and that you do it fast and stay aggressive.
"I thought that carried throughout this camp. There wasn't a day where I felt like the guys were out of gas or down. They might have been out of gas, but they didn't show it that way."
Finally, Reid offered his sincere thanks to both the Eagles and Lehigh staff that worked together to host training camp and acknowledged the fans for their support.
"I would like to thank everybody involved at Lehigh. The administration here did a phenomenal job. It is a big chore, bigger than you think," Reid said. "[I would also like to thank] the Eagles staff for putting the camp together and the fans are always awesome. The players are aware of them out here. It takes your mind off a little bit of the training camp part of it. It tells you how important this thing is to the people of Philadelphia."