It's seemed that the Eagles have dealt with killing blows multiple times this season already.
But the difference between Sunday's loss to Washington and previous low points this season is that the Eagles have precious little time left. And now, they can't dig themselves out of a hole.
A 10-3 loss at FedEx Field put the Eagles at 8-6-1, a half-game behind 9-6 Dallas and Tampa Bay for the NFC's final wild card playoff spot. Though the Eagles play the Cowboys next Sunday, they need help to extend the season. Not only do the Eagles need to beat Dallas, but Tampa Bay needs to lose at home against Oakland, and either the Bears or Vikings must lose at least once more.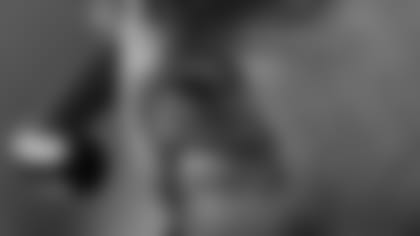 Head coach Andy Reid
There's no time for season-saving winning streaks now. It's down to preparing for one game, and then it's down to gasping at breaths of hope. With the Buccaneers' game against the 4-11 Raiders set for 1 PM on Sunday, the Eagles will know by kickoff whether or not a win against Dallas (4:15 PM Sunday at Lincoln Financial Field) gives them a shot at the postseason.
Head coach Andy Reid said it would be difficult in a time of free-flowing information to block the results of the Tampa Bay-Oakland showdown from reaching his players.
"That's probably not realistic in this day-and-age of technology. I said this before, you can't worry about all the different things that you can't control," Reid said. "You just have to go play, that's the important thing."
Unfortunately, the Eagles stumbled in doing just that against the Redskins on Sunday. The offense couldn't get anything going, despite a valiant effort from the defense, denying Washington points despite starting field position that was often terrific.
But the defense surrendered a 16-play drive that resulted in a Redskin field goal, and they could not keep tailback Clinton Portis out of the end zone after a Donovan McNabb fumble put the Redskins on the Eagles' doorstep.
But credit goes where it's due, Reid said. The Redskins controlled the football from the outset of the game, and punter Ryan Plackemeier helped to pin the Eagles inside their own 10-yard line four times in the game. From that point, the Eagles had their backs up against a wall. They ended up calling 50 pass plays and just 14 runs. Quite simply, they were unable to establish any sort of cohesive drive.
"We probably could have run it a couple of more times, yeah," Reid said. "We were backed up and trying to make some things happen. We took some shots in there and at the time we weren't running it quite as effective as we would have liked to, but we probably could have stuck with it a little bit more."
Now, the only thing the Eagles can focus on is doing their part to fix the errors in time for next Sunday's game with the Cowboys.
But if the playoffs aren't in the cards, this one is going to sting for a while.
"Sometimes you can try too hard. You get yourself out of position and that can go on on both sides of the football," Reid said. "Sometimes you can amp it up too high to put yourselves in a bad position. So you have to maintain that part and make sure that you are balancing out."
INJURY NOTES: Reid said defensive end Victor Abiamiri has a mild Lis Franc sprain in his foot, and it would "be a race" for Abiamiri to be able to go against the Cowboys. … Linebacker Stewart Bradley was walking around the locker room gingerly after fracturing a rib on Sunday, but Reid said he "should be OK" for the game.