What a difference 14 days makes.
At head coach Andy Reid's regular Monday press conference two weeks ago, the auditorium at the NovaCare complex was packed with media waiting to see the fallout after quarterback Donovan McNabb was benched in Baltimore.
It was as if a flock of vultures had come to pick over a dead carcass.
On the Monday following the big win over the defending Super Bowl champion Giants, though, there were no birds of prey circling overhead.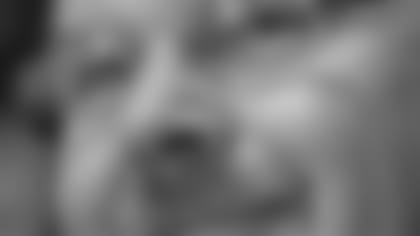 Head coach Andy Reid
Instead, the turnout was sparse, mostly because the Eagles are not a hot topic now that they seem free of controversy. Reid wouldn't have it any other way.
"Now that we're winning nobody shows up for these press conferences," Reid said. "The room was packed two weeks ago."
That's when it seemed like the Eagles' season was lost after a devastating defeat at the hands of the Ravens. But somehow, in the span of three days, the Eagles found a way to turn things around in time to thump the Arizona Cardinals, who have since clinched the NFC West title.
The Eagles then built off of that with a Giant statement in the win over New York. Now they are in the thick of the hunt for a playoff spot.
"Long season, long season," Reid said. "Anything can happen in the National Football League, so you just have to make sure you take care of your business. You can't worry about really anything else."
One of the common threads of the last two victories has been that the Eagles have uncharacteristically run the ball more than they've thrown it. Against the Giants, Philadelphia ran the ball 41 times against just 30 passes.
According to Reid, though, a lot of that had to do with the wind and the cold at the Meadowlands.
"We're going to do what it takes to win the game," Reid said. "Some of it was dictated by the weather conditions. You weren't going to be very successful throwing the football in that weather."
The long-range forecast for the Browns game on Monday night is cloudy with a high of 48 and a low of 36 without much wind, which is a lot like the weather the Eagles and Cardinals played in on Thanksgiving night.
The Eagles had an almost perfect run-pass ratio against Arizona, rushing the ball 40 times and throwing it 39 times. Even though the Eagles have seemingly turned a corner, Reid knows full well that his team can't afford to shift into cruise control for the rest of the season.
"It's always better to win, obviously," Reid said. "But you got three more games here that you have to take care of business with. We have the Cleveland Browns coming in here. They have four wins and three of those have been on the road. It's not a time to sit back and relax."