A funny thing happened to the Washington Redskins on their way to a playoff berth.
They started playing good teams.
The team has lost five of its last six games, and what was once a promising season has swooned into a disastrous 7-7 campaign that has left many Redskins fans wondering about what might have been.
"We went through a tough, difficult stint in four or five games and it took its toll on us," Redskins head coach Jim Zorn said. "We only beat the Seahawks, which was no easy task. We ended up losing everything else, so that's taken its toll on us."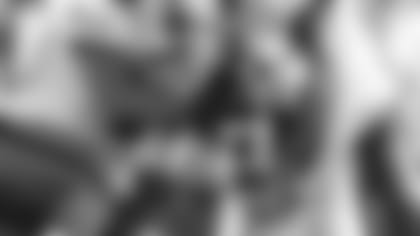 Don't be surprised to see a little bit more of this on Sunday when the Eagles play
Zorn referred to it as the "third quarter" and its one Washington would like to forget.
"The third quarter is where we fell," Zorn said. "In the third quarter of the season, we played Pittsburgh, we played the Giants and we played Dallas. Those were very difficult teams. Along with Philadelphia, all these teams have tremendous defenses."
Those defenses have been putting it to Washington. Since the beginning of November, the Redskins have scored 20 points or more points just once, in their lone victory over Seattle during that stretch.
"A lot of it has to do with injuries," quarterback Jason Campbell said. "A lot of it has to do with the tough teams we played here lately back-to-back. We had the Baltimore Ravens, the Pittsburgh Steelers, the Giants and then the Cowboys, all in a row. That was four tough games back-to-back and we had a lot of guys banged up after that because those were physical football games we were playing. Injuries have been a big part of it and we've had to overcome a lot."
They haven't really done a good job in that aspect. Last week the Redskins spotted lowly Cincinnati a 17-point lead before falling 20-13. Campbell hopes his team can get that awful taste out of their mouth by beating the Eagles this weekend.
"It's a huge game for us," Campbell said. "We're 7-7 and we had a heartbreaking loss last week at Cincinnati. There's one we didn't see coming. To go up there and lose to Cincinnati kind of felt bad. We need a win really bad."
Zorn said that whatever is ailing the Redskins, he knows exactly how to fix it.
"Winning is the biggest morale booster that every team has going for it because it just breeds confidence," Zorn said. "In the last six games, we've lost five. That has been an absolute downer. We're scratching and clawing for everything we can get. The thing I've appreciated about our players and about our fans, they have stuck with us. They have stuck by us as a group and stuck by me as a head coach. That doesn't win games, but it definitely helps because at some point we're going to come out on the other side."
Zorn said he liked the direction the team is going even if it hasn't been reflected in the win column.
"There's a feather in our cap because I think we come to work every week and we come hard and we play hard," Zorn said. "It's frustrating to end up losing and you just sort of keep getting smacked right in the face after every one of those losses.
"We're almost there, but not quite. We haven't been scoring points. That has been our biggest issue is the lack of scoring on our offense and it's just been that idea of sustaining drives until we get across that end line."