Quintin Mikell set himself a goal this offseason.
He had won the starting strong safety spot after being a special teams demon for five seasons. He was going to get playing time. But for him, that wasn't enough. He spent the entirety of training camp proclaiming that he wanted to be a Pro Bowl player.
When the 2009 Pro Bowl rosters came out Tuesday afternoon, two of Mikell's companions in the secondary were honored – free safety Brian Dawkins and cornerback Asante Samuel. Mikell, who leads the Eagles in tackles and had been getting some underground consideration from national analysts, was nowhere to be found.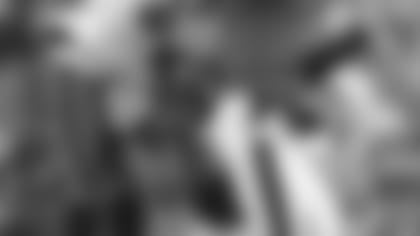 SS Quintin Mikell
"You know, I didn't get it this year, but I feel like – even though I didn't make it to the Pro Bowl – I had a Pro Bowl season," Mikell said. "But I'm pretty proud, for the most part, with how I played this year."
Mikell didn't mince words, though – he was hoping he would get the nod, But he wasn't anticipating anything; he was out Christmas shopping with his son when the names were called.
On paper, he certainly had the production. In addition to his 152 tackles, he has forced four fumbles, registered two sacks and made three interceptions from the safety spot.
All that, and he still hasn't relinquished his position on special teams.
"I think he's really one of the better safeties in the league right now. I know that he doesn't have all the interception numbers and that but he is a ferocious player," head coach Andy Reid said. "He's smart. He is good against the run. He's good against the pass. He makes calls back there, adjustment calls. I just really like the way he plays. Then he jumps in on special teams and does that on top of that."
Admittedly, it's tough to get the name recognition typically needed for a Pro Bowl berth while playing alongside a legend. But Mikell's beginning to get some love, starting with the coaches.
Should Mikell continue at this level of production, the rest will likely fall into place.
"I feel like I had a big challenge in front of me this year, and it's not over yet, but I feel like so far I've done pretty well," Mikell said. "Going into the season, people were like, 'Who is this guy? Let's pick on him, let's throw at him.'
"I feel like, now, people are starting to recognize the name and everything. And that's all right with me, I'm cool with that. As long as I'm playing well and people just respect the way I play, that's all I care about."