At 22 years old, Eagles Cheerleader Symone is off to a fantastic start in Philadelphia. In just her second year on the squad, she was chosen by her fellow teammates to represent the Eagles Cheerleaders at this year's Pro Bowl on Sunday at Camping World Stadium in Orlando, Florida. A senior at the University of the Arts in Philadelphia, Symone expressed how honored she is to be selected.
"It meant the world to me to know that my fellow peers, 35 amazing women, felt that I was deserving of this tremendous honor," Symone says. "I'm humbled to be selected and very appreciative of the opportunity. After every Eagles win at Lincoln Financial Field, I gather my teammates and lead a 'victory dance' in the locker room. I'm looking forward to bringing that same camaraderie and enthusiasm as the Eagles Cheerleaders representative at the Pro Bowl."
Symone will be participating in Pro Bowl Week festivities leading up to the game, including many fan engagement events such as the Pro Bowl Skills Challenge and NFL Pro Bowl Experience at ESPN Wide World of Sports. Symone is especially looking forward to the community outreach she will be involved in, including youth initiatives and hospital visits in the area.
Symone is very active in charitable causes both locally and abroad since joining the Eagles. Back in June 2017, Symone along with her teammates volunteered at the Foundation for a Better World, an orphanage for boys, in Higüey, Dominican Republic. After being informed that the children were in need of many basic necessities and regularly only have canned food, Symone and her teammates were intent on making the visit extra special. The squad stopped at a local grocery store on the way and purchased an abundance of fresh food to surprise the boys and donated all of the essentials they needed such as socks, towels, toiletries, bedding, and shower curtains.
"When we arrived, the boys greeted us with exuberant smiles, and I'll never forget the look on their faces when they saw the bags of groceries and items. Interacting with the children was the best part though. I even played basketball with some of the boys." Symone recalls. "There was a language barrier, but we were still able to connect, laugh, and have so much fun together."
She is also passionate about mentoring children during the Eagles Junior Cheerleading Clinics and camps. The events are designed to foster self-confidence in a non-competitive environment. Symone appreciates the overall impact the camps have on the young participants.
"I think it's important to communicate positivity and try to integrate self-esteem messaging whenever you work with young children. A child's future can be limitless when he or she believes in themselves," Symone says.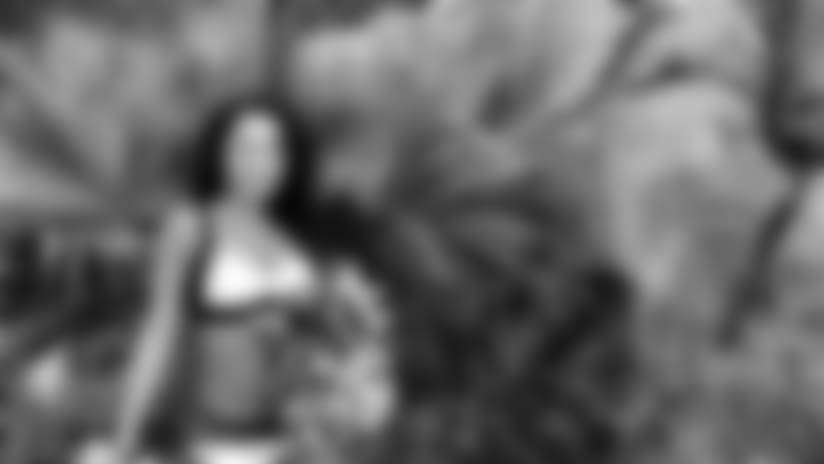 Originally born in Japan at Yokota Air Force Base, Symone is proud of her Asian and African-American heritage. Her late father, James, served in the military for 36 years as a Chief Master Sergeant in the Air Force. Her mother, Kaoru, is a first-generation member of her family to leave Japan. Symone and her family also lived in Hawaii and Germany before settling down in Yorktown, Virginia. She is fluent in Japanese and still visits Japan occasionally to see her family.
Symone adds that "performing at the Eagles Salute to Service game is very special to me, because of my father's military service. I cherish every chance I have to personally thank United States service members for their sacrifices and bravery."
A fine arts and dance major, Symone intends on pursuing a career in commercial dance once she graduates. Symone mentioned that being an Eagles Cheerleader has provided her with invaluable experience including performing for over 70,000 fans at Eagles home games, being onstage during the televised 2017 NFL Draft, and featured on Monday Night Football.
To prepare for Pro Bowl week, Symone reached out to some of the other NFL Pro Bowl cheerleaders and learned that she will be the youngest on the Pro Bowl squad.
"I'm embracing being the youngest on the squad and even though I've only been an Eagles Cheerleader for two seasons, I feel that I have a lot of great experiences to share and talent to contribute," Symone says. "I also heard that we by far have the most fans attend the Pro Bowl, so I'm really excited about being in Orlando with tons of passionate Eagles fans – the best fans in the NFL!"