From the beginning of Tuesday's practice, it was clear that this was not your standard Chip Kelly training session. Only around 30 players took part in the dynamic warm-ups before shuffling off to their position groups for what would be very individualized teaching. Rookie linebacker Jake Knott, for example, was the only inside linebacker in attendance. These two days, then, are an opportunity to prepare those in attendance for the rigors of the weeks ahead.
"We knew we had to slow things down from a teaching standpoint," said head coach Chip Kelly. "We only had a couple kids at certain positions - you got one inside linebacker, one outside linebacker, two corners, one safety. So our plan as a coaching staff was to get out here for about an hour, really technique oriented, get guys back and just spend some time because I think once you get to Friday and all of a sudden you're back into scheme and everything's happening, there are 90 guys flying around, everyone's running around you, these young guys can use as much practice time as they can.
"Really, we're using these two days as a way of getting a little bit of a jump start before we really start. For us, the official start of camp is probably Friday."
Even though the good stuff gets underway on Friday, we're still here to deliver our sights and sounds from the first official day of #EaglesCamp2013 …
Let the record show that the very first quarterback rep during Training Camp went to … Michael Vick and Nick Foles at the exact same time.
As mentioned above, rookie inside linebacker Jake Knott really stood out at the best player at his position Tuesday. Knott got all of inside linebackers coach Rick Minter's attention as he is the only player at his position in the early portion of Training Camp. A rookie free agent out of Iowa State, the 6-foot-3, 252-pound Knott was named an All-Big 12 first-team selection despite suffering a shoulder injury which prematurely ended his senior campaign. He will compete with the likes of Casey Matthews, Jason Phillips and Jamar Chaney for backup spots at inside linebacker. 
Continuing on the solo drill participant theme, Russell Shepard was the lone player to receive reps as a kickoff returner during special teams drills. Shepard did have some occasional trouble catching the football cleanly.
One wide receivers drill involved running over pads and catching a neon Nerf ball fired from a short distance. Nerf balls are made of a foam material and are lighter than an NFL football. Another receiver drill was the rope drill. One receiver would jog with a ball, which was connected to a rope that was being pulled by another receiver a few yards behind. The drills are used to improve hand strength and ball security.
During the final period of practice, the offense and defense competed in a 3-on-3 drill. The field was cut in half and there was a quarterback, tight end and wide receiver on offense, and a linebacker, cornerback and safety on defense. Earl Wolff notched an impressive interception of G.J. Kinne at one point while Will Shaw and Derek Carrier each dropped a pass. Eye On The O-Line
In an offseason full of exciting coaching moves for the Eagles, Chip Kelly luring Jeff Stoutland away from the University of Alabama to be his offensive line coach generated almost as much buzz as the hires of Pat Shurmur and Billy Davis. In two National Championship seasons at Alabama, Stoutland oversaw the nation's most dominant offensive line, one littered with top prospects even considered by some to be close to pro-caliber as an overall unit. Stoutland coached three All-Americans during that time while molding a unit that paved the way for three 1,000-yard rushers in two seasons and the nation's most efficient passing game (Alabama led the nation in passer rating in 2012).
After 27 years as a college coach, Stoutland is finally getting his first shot in the NFL. Here's one account of Stoutland's first practice at the helm of an NFL Training Camp …
Stoutland is a commanding presence. He has a demeanor and voice that demands attention and respect. Of course, his pedigree can't hurt.
The five offensive linemen in attendance lined up as follows, from left to right: Lane Johnson (yes, the first-rounder lined up at left tackle), Matt Tobin, Jason Kelce, Nic Purcell, Michael Bamiro. 
Stoutland and assistant offensive line coach Greg Austin faced the offensive line and mimicked linebackers on defense, using overturned trash bins with numbers to simulate individual defenders. They each moved around before the snap, concocting different blitz calls and stunt/twist combinations meant to confuse the offensive line and test each member's acumen for adjustment. Tra Thomas and, eventually, running backs coach Duce Staley stood in the backfield.
Kelce made the preliminary calls, but each offensive lineman was responsible for identifying the blocking assignments. Johnson's feel for the game is obvious and, at one point, he was even made a call -- the correct call -- for Tobin. Stoutland told Johnson that wasn't his responsibility while simultaneously complimenting his recognition skills.
Bamiro was at his natural right tackle position and looked comfortable. His first step wasn't always proper, but he typically made the right calls pre-snap and Stoutland was sure to commend him for it. Tra Thomas, who helped prepare Bamiro for the NFL, was stationed behind Bamiro and appeared focused on him specifically.
Stoutland mainly focused on how to identify whether the defense is running zone or man and understanding what each scheme means in terms of where the pressure will originate. He preached constant communication and stressed that his charges be honest with him if they were confused.
Though this was just a cursory glance of the offensive line's Day 1 and the teaching points were elementary, Stoutland and the rest of the offensive line should be a fascinating follow throughout the rest of Training Camp.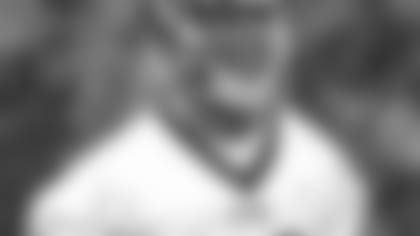 As each position group split up for individual drills, fifth-round pick Earl Wolff and his two fellow defensive backs remained on the far South field. The hour of practice was a mix of teaching and active periods, with each player receiving specialized attention. In his first Training Camp practice, Wolff stood out and even made a nice interception during a half-field coverage drill, but there were also some miscues and the coaches let him know about it. The day's practice stood in stark contrast to the rookie's experience in the spring.
"Coaches were really harping on technique, fundamentals," he said.  "At rookie minicamp I was still trying to figure out exactly what was going on, but coming out here today, basically we just went over the basic things we learned the first day of minicamp, so I kind of knew what to do so I felt like I was allowed to make more plays."
Wolff is happy to get these reps and feels like he's ahead of the curve, but admitted he still needs to study his playbook. His biggest goal is to "get the plays down," but Wolff is also counting the days until the pads go on.
"My goal is to be perfect, which I know is impossible, but getting better everyday is my thing," said Wolff. "I love contact … I can't wait to put the shoulder pads on."
Center Jason Kelce wasn't one of the 30 players who was supposed to take place in the rookies and selected veteran portion of Training Camp, but he wanted to be out on the field before the first full-team practice Friday as he returns from a torn ACL in 2012.
"I don't hold back ... I'm always as hard as I can go," Kelce said after practice. "They'll pull me back and I'll want to be out there. Hopefully, they won't have to pull me back too much."
Kelce sported a sleeve on his right knee for the workout. Once there's football activity, Kelce said he will wear braces on both knees. The center returned to action for the June minicamp and had no setback.
"The test for me will be once I get pads on and just seeing how it feels, actually hitting people and bracing and doing all of the things that up until this point I haven't been able to simulate," he said.
The tempo at Tuesday's practice was more subdued compared to what the action will be like starting Friday. And, as Kelce explained, that's a good thing for the rookies.
"Sometimes being able to slow it down right at the beginning of camp before you put pads on is a good thing, mentally, just to get back into it," he said. "It's a good kind of welcome to what we're going to be doing in the NFL, a lot of these guys haven't experienced what Training Camp is like in Philadelphia. For us veterans, it's a big change being in the NovaCare (Complex). Mentally, it's just really good to get them accustomed to it."
As much as we know you care about everything going on during Training Camp, we're equally aware that the biggest storyline of the summer is the ongoing quarterback competition. With that in mind, we'll provide a daily update on the fight for the top job under center …
One of the first things a quarterback must do when he gets back to Training Camp is re-establish a timing and rhythm with his receivers. Quarterback Nick Foles embraced the opportunity to start this process Tuesday with the rookies and selected veterans.
"Just getting back into it, it takes a couple of throws and maybe a couple of days, but I feel comfortable for the first day," Foles said. "I felt real comfortable throwing to guys and it's exciting to be back here on this field throwing here. It felt good.
"We all trained hard in the offseason. It's exciting to get back here and get on the field. We have a lot of young guys, and it's exciting to get to work and get back to the fundamentals - going through the drops, throwing to them, and getting ready for the season. We have a great opportunity. The vets are coming in and we'll get the whole team here pretty soon but we have another great opportunity to come out here tomorrow and get after it."
One thing Foles is not paying much attention to is when he gets on the field. Foles is not concerned with where he stands on the depth chart on a daily basis.
"There's no hidden things like who goes first or second or third. We're just trying to get our work in and push each other each and every play," Foles said. "If you noticed, we all switch off and we're all trying to push each other to be the best that we can be."
Meanwhile, Kelly was asked whether the race for QB1 is a two-man race between Foles and Mike Vick.
"Everybody's got a chance," said Kelly. "Everybody that's in camp is going to get an opportunity to show us what their resume is and your resume is what you put on tape every single day. If someone continues to make plays and another guy continues not to make plays then that guy's going to move up and the other guy's going to move down. There's nothing set in stone. I would say our depth chart's written in sound right now."
That's good news for Dennis Dixon, the former Kelly protégé who has been a bit of an afterthought at Training Camp gets underway.
"I've been accustomed to that my whole life," Dixon said. "I'm always the guys that's been crawling and scratching until the end. Do the little things and the big things will follow."
Dixon's past with Kelly -- a standout 2007 season at Oregon when Dixon was a Heisman frontrunner with Kelly as his offensive coordinator – certainly doesn't hurt.
"It's somewhat similar," Dixon said. "The terminology is a little different and for the most part we are going a lot faster than what I was accustomed to in college. But overall it's pretty much the same thing."
Five years later, Dixon is looking to cement an NFL job while his former coordinator has risen to NFL head coach.
"I have to say, he's pretty much the same guy," Dixon said. "Five years has just blown away, but he's still the same old Chip, still the same old guru on offense, for sure."
Dan Klausner, Chris McPherson, Alex Smith and Bo Wulf contributed to this report