Believe it or not, the beginning of the 2014 season is rapidly approaching. Players will report back to the NovaCare Complex on April 21 for the start of the Eagles offseason program. Join us as we count down until the Eagles are back in town ... Mike Quick, one of the Eagles' all-time great wide receivers, set the franchise record with 1,409 receiving yards in 1983, a mark that was challenged by DeSean Jackson in 2013 but not broken. It was in 1985, however, that Quick set his personal mark for catches in a single season, with 73. First Eagle To Wear 73: T Ed Kasky
Current Eagle To Wear 73: DL Joe Kruger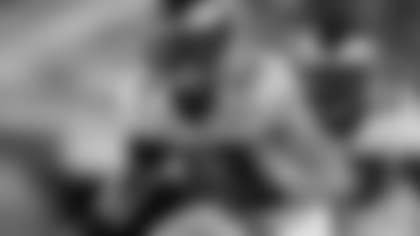 The Eagles' first of three seventh-round selections in the 2013 NFL Draft defensive lineman Joe Kruger left Utah after his junior season. At 6-foot-6, 269 pounds, the pedigreed, long, athletic and active Kruger was viewed as a project with considerable upside who needed to gain more weight and get stronger in order to play the four-technique full-time, which is how he was deployed in Training Camp and preseason. At just 21 years of age, he was by far the Eagles' youngest rookie but also had the steepest learning and development curve.
Kruger was coming along nicely before suffering an unfortunate shoulder injury in the preseason that landed him on Injured Reserve. He turns 22 in June and, with a full year of training and studying Bill Davis' defense under his belt, will be relied upon as yet another versatile piece along an Eagles' dynamic defensive line in 2014.