Believe it or not, the beginning of the 2014 season is rapidly approaching. Players will report back to the NovaCare Complex on April 21 for the start of the Eagles offseason program. Join us as we count down until the Eagles are back in town ... In the Eagles final two regular season games of 2013, they faced two of the top running backs in the league in Chicago's Matt Forte and Dallas' DeMarco Murray. Both players finished in the top 10 in rushing, but the Eagles were able to shut them down. By holding the Bears to 61 rushing yards and the Cowboys to just 56 yards on the ground, the Eagles held back-to-back opponents to under 65 yards rushing for the first time since 2005.
During the Week 16 meeting with the Bears, Bryce Brown also broke off a 65-yard touchdown run, the longest run by an Eagle in 2013.
Bonus Stat: Jason Kelce ate 65 wings in Wing Bowl XXII, becoming the first active Eagle to take part in the event. First Eagle To Wear No. 65: G Bob Suffridge (1941-45)
Eagle Currently Wearing No. 65: T Lane Johnson (2013-present)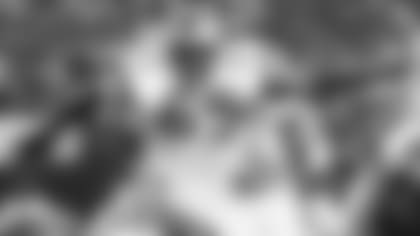 CHARLIE JOHNSON (1977-1981)
The Eagles selected Charlie Johnson in the seventh round of the 1977 NFL Draft. For many later-round picks like Johnson, just making an NFL team is considered quite the accomplishment, but the University of Colorado product did much more than that. Johnson started nine games in his rookie year, and by the end of the 1979 season, he had become a Pro Bowl nose tackle on the Eagles defense. Johnson would make the Pro Bowl and All-Pro teams in each of the next two seasons, which included a start in Super Bowl XV to conclude the 1980 season.
In his five seasons in Eagles green, Johnson started 73 of the 76 games that he appeared in. He intercepted three passes and had a nose for picking up any loose balls, recovering seven fumbles. Johnson played three seasons in Minnesota before retiring after the 1984 season. In all, he played eight seasons in the NFL, during which he was named to three Pro Bowls and two All-Pro first teams.