No position unit underwent more change last season than the offensive line. Before the season began, all-pro left tackle Jason Peters was lost for the year with a torn Achilles. In Week 3, starting center Jason Kelce tore his ACL. In Week 9, a third starting offensive lineman, Todd Herremans, suffered a season-ending injury. All told, nine different players started games along the offensive line for the Eagles in 2012 as the team ranked fifth in the league in sacks allowed.
Fast forward five months and the offensive line is full of reinforcements. Beyond the infusion of fourth-overall pick Lane Johnson, the trio of starters who were lost last season are all ramping up for the season ahead. Peters is fully healthy and back where he belongs at left tackle. Herremans too is just about 100 percent, though he's undergoing a transition of his own. Kelce, meanwhile, has been a limited participant throughout spring practice and has Training Camp earmarked as his return to complete action.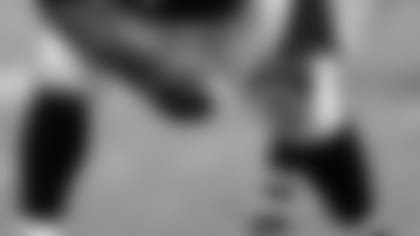 "It feels good," Peters said following practice earlier this week. "It just feels good to be healthy and be out there running around."
During Monday's practice, the first-team offensive line was as follows, from left to right: Peters, Danny Watkins, Dallas Reynolds, Herremans and Dennis Kelly. Watkins is filling in for Evan Mathis, the only offensive lineman to start all 16 games last season, who recently underwent a minor ankle procedure. Mathis is expected to be fully healed in time for Training Camp. While Kelly holds down right tackle for now, he'll no doubt be pushed by Johnson, which has allowed Herremans to move over to right guard.
"When I was working at right tackle for the first camp and those little individual periods, we weren't just learning the position, they were teaching the whole scheme," said Herremans. "So it hasn't really been that hard of a switch. I'm still trying to stay fluid for whatever they want. Everything seems to be going well right now."
Over his eight seasons with the Eagles, Herremans has started games at left tackle, left guard and right tackle, but never right guard. But the veteran says the new spot won't take much adjustment.
"I think that most of the techniques when you're talking about different styles of coaches on the O-line and stuff, I think most of them apply to tackle," he said. "I think guard play is pretty universal around the league. Basically get your hands on (the defensive lineman)."
Herremans added that the pass blocking techniques taught by offensive line coach Jeff Stoutland are similar to those taught by Juan Castillo when the former was the team's offensive line coach. But the emphasis placed on athleticism under Howard Mudd remains, and is likely even stronger.
"In terms of just what we were doing, there are a lot of similarities in the zone blocking scheme for the offensive line," said Kelce. "Obviously, the quarterback and the running back situations with the reads is a little bit different but, for us, I think this system still tries to use the athleticism of the offensive linemen. I think you saw that when they drafted arguably the most athletic offensive lineman in the draft. They like to utilize us in space and they like to get us to the second level, so that's all very familiar with what we were doing."
Following a post-practice workout to continue the process of rehabbing his knee, Kelce explained that he'll be doing one-on-one blocking drills over the next couple months in preparation for his full return to action. The goal then is that the projected starting offensive line will be able to work together come Chip Kelly's first Training Camp.
"Training Camp," Kelce said, "I expect to hit the ground running full-go just like everybody else out there."