Akeem Jordan didn't get to where he is now by looking at his strengths as a linebacker. He still doesn't concentrate on them, he said.
If you ask him, he can't even really tell you what his strengths are. Instead, it's the weaknesses he focuses on. He thinks he needs to be more physical, and he would like to prepare better mentally every game to avoid mistakes. He struggles with them every week.
That's how the smallish, undrafted kid from James Madison made it onto the Eagles' roster as a rookie in 2007, and that's why he's now the team's starting weakside linebacker.
"I just try to play fast all the time," Jordan said. "I try to work on my weaknesses. I ask my coaches, 'What can I work on to be a better player?'"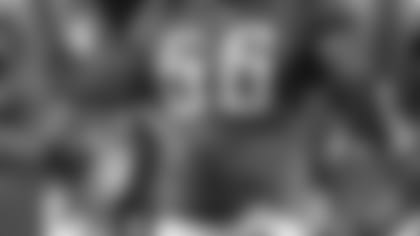 LB Akeem Jordan
Though Jordan doesn't care to dwell on what he's good at, somebody on the Eagles' coaching staff does. Jordan began to see reps at Omar Gaither's WILL linebacker spot during the second half of Week 10's game with the Giants, and he made his first start there Nov. 23 in Baltimore.
There wasn't much to the decision, Jordan said. On the Wednesday prior to the Baltimore game, defensive coordinator Jim Johnson told him he would be making the start. For Jordan, it was kind of an "OK" moment.
In concentrating on his setbacks, this was what he was preparing for.
"It was excitement and nervousness at the same time," Jordan said. "You're excited to play, but you're nervous that you're going to let down the team.
"You've got to prepare like you're a starter. You never know what's going to happen in a game. Somebody goes down, I've got to step in there."
Jordan's speed was – and still is – utilized on special teams units, but Johnson wanted more speed on his defense. And, though Jordan might not say it, speed is his greatest asset.
At 230 pounds, the other starters, Stewart Bradley and Chris Gocong, outweigh Jordan by 25 and 33 pounds, respectively. But coming from the weak side, Jordan is most often asked to drop into pass coverage or to pursue a play from behind. Jordan's also been involved with several plays in the offensive backfield.
That's where his stature might actually be one of those positives Jordan doesn't really look at.
As a result, Jordan led the team in tackles in Baltimore, his first start, and finished tied for second against Arizona last Thursday.
There, certainly, is a strength to focus on.
"I just play my part, just do what they tell me," Jordan said, "just fit in where I fit in."