Happy wife, happy life. Eagles cornerback Cary Williams took the cliché to heart this offseason as he was away from the NovaCare Complex for nearly a month while going through the wedding process with his wife, Amanda. After returning to action during Organized Team Activities last Tuesday, Williams is now back to work on the football field.
"I had these things planned before I became an Eagle," Williams said of his brief absence. "Not being disrespectful, but everybody has their own personal life and has things to take care of and in my life I had something to take care of and I felt that was important ... Family is the most important thing to me."
While Williams was away, third-year cornerback Curtis Marsh took the majority of the first-team reps at right cornerback. On Monday, Marsh remained in that role while Williams worked primarily with the second team. That's not a cause for concern, though, for Williams, who was signed as a free agent following a standout year for the Super Bowl-champion Baltimore Ravens.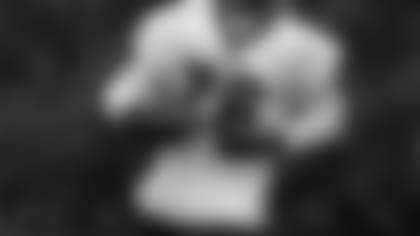 "That's just what coach wants, that's what he's doing and that's fine with me," Williams said. "It's one of those things where I missed a couple weeks and guys have been here and coach is giving them an opportunity and that's fine. Like I said, OTAs are OTAs. When we get the pads on, it's a different thing.
"If I don't think I'm the top corner, I shouldn't be here. I obviously think that I'm that and, like I said, once we get the pads on the cream will rise to the top."
For now, Williams' foremost concern is acclimating to a new defense and new teammates.
"Initially, you're meeting new guys. You're trying to learn what those guys are doing, you're trying to learn a new system and different terms," Williams said. "Just trying to learn different plays I guess and that's one of the things that can be difficult, playing with guys you're not used to playing with, that's all.
"There are a lot of things we have to talk through, but that's a part of the process. We're still trying to learn each other, we're still trying to get better each and every week and each and every day. It's just a process and OTAs are a part of that process and we're supposed to learn and try to get to know each other, try to play with each other, try to learn the scheme at the same time."
Williams' road to starting cornerback and big-ticket free agent was not a typical one. The one-time seventh-round pick out of unheralded Washburn University spent three seasons in the league, bouncing from the Tennessee Titans to the Ravens, before finally earning a starting role in 2011. Thirty-two straight starts, and one honeymoon, later, Williams is back to work – and he doesn't expect that streak to end any time soon.
"I'm not a rookie or anything like that," Williams said. "I understand how to come in and be a professional. I take each and every day seriously every time I step out here, so it's just another day in the office for me."