It's no secret that the Philadelphia Eagles are passionate about green – no matter the shade.
The next time you suit up in your favorite Eagles attire and head to Lincoln Financial Field, take a good look around. Between the reverse recycling vestibules on the main concourse on both sides of the 50-yard line to a life-sized Lombardi Trophy constructed entirely of bottle caps, you'll quickly notice that for the Eagles, green means so much more than the color that staff, fans, and players so proudly sport. It represents sustainability, an utmost priority of the organization
The GO GREEN program is ingrained into the team's identity. With the help of partners like NRG, Tork, and Braskem, in tandem with the support of the Philadelphia community, the Eagles have reached great heights as a sustainability leader across the globe.
"Sustainability is no longer confined to just the operational aspect of our organization," said Norman Vossschulte, Director of Fan Experience and Sustainability. "It is a key pillar of who we are, what we stand for, and how we operate as a team. That starts with great leadership at the very top with Jeffrey Lurie and Don Smolenski. It has a trickle-down effect and empowers us as employees to take action in our personal and professional lives."
Vossschulte is a champion for employing science-backed practices in sports, working tirelessly to learn, implement, and teach them at all levels of the organization and beyond. His passion for creating the best fan experience extends past their visit to South Philadelphia – he's relentlessly searching for new and innovative ways to preserve the planet by leveraging the team's star power as a professional football team.
Vossschulte is from Germany; he came to the United States in the late '90s after earning degrees in Theatre from Herbert Berghof Institute and Biology from Elly Heuss. He has a wealth of knowledge that serves him well in his current role, drawing from experiences as a community relations and social responsibility spokesperson for Disney, before joining the Eagles in 2012.
Since his arrival in Philadelphia, his spirited leadership has played an integral role in propelling the GO GREEN program into one that prioritizes green energy production, recycling and composting, reforestation, ocean conservation, emission reduction, energy efficiency, and much more.
Established by Eagles Chairman and CEO Jeffrey Lurie in 2003 with the opening of Lincoln Financial Field, the team's Go Green program is an award-winning, internationally recognized initiative that has become a blueprint for other organizations to follow.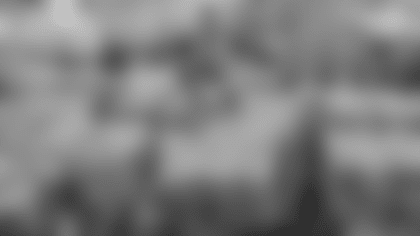 Lincoln Financial Field is one of the most sustainable arenas in the world. As one could imagine – nearly 70,000 guests can create tens of thousands of pounds of trash on a single gameday. But fans can rest assured, the stadium is 99.9% landfill-free – any waste produced during a game, concert, or event is organized by a team of 60 sorters to ensure everything that can be recycled, is. The stadium boasts a closed-loop recycling program, which repurposes bottle caps and other plastic products that are recycled into new materials for use. In 2021, five park benches were made from 100% recycled stadium seats, and 1,890 pounds of plastic shrink wrap were reused.
"There are some really cool ways that we've revolutionized our recycling process," said Vossschulte. "Drywall in the stadium, for example, has filler material that's made out of shrink-wrap deliveries that come into the stadium. Just another example of our closed-loop recycling efforts.
The gameday experience is nothing short of memorable, from the fireworks that celebrate the start of a game to the Eagles fight song pulsing from the speakers after a touchdown. It's all completely powered by clean energy. Lincoln Financial Field uses no fossil fuel – 40% of the energy that the stadium uses is produced on-site via solar panels that create four megawatts of power per year. The team has the largest solar power system in the NFL.
"Whether our fans park under the solar panels in K Lot, are sitting underneath the canopies in the 200 level, or are shielded by the elements in the south end of the stadium, they can rest assured that the covering keeping them dry is, in fact, producing clean energy," Vossschulte added.
The efforts to be a more sustainable organization don't just live within the confines of Lincoln Financial Field; they spread around the globe. In an effort to fully offset CO2 and blue carbon emissions generated by team travel, the team sought out the most effective solutions through meaningful dialogue with experts in the field, most recently traveling to London to represent the organization at the Sport Positive Summit. Held in conjunction with the United Nations Climate Change and International Olympic Committee, the summit welcomed over 500 sustainability leaders from sports organizations around the world to share best practices in the field of sustainability.
"We have learned through various conversations with scientists that it is very important to invest into the ocean. More specifically into kelp forests, seagrass, and mangrove restoration because 80% of marine life lives in those areas of the ocean and only about 20% of the ocean has that," Vossschulte said.
"Eighty percent of it is now gone. It's very important because that's pretty much where all life starts and life ends, so if we don't invest in the ocean now, we will be headed for big problems."
In discovering that, the team decided to expand its strategy from planting trees to include contributions to ocean conservation through planting sea grass in Jobos Bay, Puerto Rico, in partnership with the Ocean Foundation and Ocean Conservancy. Each year, scientists calculate the mode of transportation and the miles traveled to discern the amount of seagrass that needs to be planted to offset the emissions. In 2021, approximately 456 metric tons of CO2e were offset by three acres of seagrass. Vossschulte says the team has found that the effects trickled down into even more positive outcomes.
"What's more important, though, is that it has a dual effect because not only does it offset blue carbon, but it also creates new habitats for marine life, which are really important to sustaining life in general. And it also creates jobs for areas that may be underprivileged and or for folks that rely on that as their main income and their main food source," said Vossschulte.
From earning LEED Gold certification by the U.S. Green Building Council for implementing practical and measurable sustainability solutions, to becoming the very first professional sports team to receive ISO 20121 certification – an international standard designed to help organizations integrate sustainability into management practices and processes. they've reached milestones that many have never seen – but Vossschulte says there is more work to be done. The Eagles have an E.C.O. team – which stands for engagement, communications, and operations – made up of employees across the organization.
"The E.C.O. Committee meets quarterly where we discuss our organizational goals. We're phasing out plastic products and now using straws that dissolve in ocean water and become fish food. We are always challenging ourselves to examine every area of our operation to ensure that we're staying ahead of the curve," said Vossschulte.
Those goals, he says, have drawn the interest of fans, and even the National Football League.
"We recognize and appreciate what our team means to Eagles fans in Philadelphia and around the world," said Vossschulte. "We want them to be proud of who we are, both on and off the field. That comes with a lot of responsibility and we take that seriously."
"Through our ongoing sustainability efforts, we hope to inspire as many people as possible so that the planet is left in good hands for the next generation."