I like where the Eagles are right now at 5-3. They are just starting to play the way they can play after injuries took so many players off the field here. Everybody is talking about injuries decimating the Cowboys, but the Eagles played most of the first half of the season without starting wide receivers Kevin Curtis and Reggie Brown, Pro Bowl guard Shawn Andrews and for more than two games without Brian Westbrook, who is only the best running back in the NFL right now.
Being 5-3 is a good place to be. The NFC East has tightened up considerably. The Eagles are in position to make a playoff run and it should be an exciting final eight weeks of the season.
One of the reasons I am so optimistic about this team is the play of quarterback Donovan McNabb. I think he is just playing outstanding football. You can see the confidence he has and the command he possess. When Donovan gets hot like he did in Seattle, he is capable of beating any team anywhere.
I think the defense continues to get better and better, with an emphasis on stopping the running game. There are some great tests ahead. If the Eagles can generate pressure on the quarterback on a consistent basis, they are going to be a complete defense.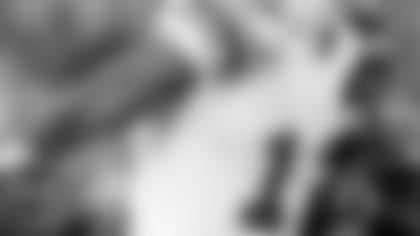 The Eagles have to stop WR Plaxico Burress
Sunday night, of course, is a huge game. The Giants are playing as well as any team in football. They have done what few teams do, and that is follow up a Super Bowl season with another strong performance.
New York is a consistent team that rarely makes mistakes. They turned the ball over three times on Sunday and still blew away the Dallas Cowboys. I know Dallas is a shell of the team it was in September, but what the Giants have done in a 7-1 start is still very impressive.
There are two key areas for the Eagles to win this game. One is to not allow wide receiver Plaxico Burress to have the kind of game he has had of late against this defense. In two games last season, Burress caught 11 passes for 160 yards and two touchdowns. In 2006, Burress was even better with 12 catches for 234 yards and a touchdown. His size and his ability to go up and catch passes, plus his great play in the red zone, make Burress a constant target for quarterback Eli Manning.
The Eagles have to contain Burress. I'm not sure defensive coordinator Jim Johnson is going to employ any unusual strategy to do so in the secondary. I'm sure Johnson will come up with some kind of coverage scheme against Burress, but he knows that the Giants also have a crafty veteran in Amani Toomer and a young receiver in Steve Smith who is having a very fine season.
To do a good job against Burress, the Eagles must get to Manning. They must make him hurry his throws, rush things a little bit and get him out of his comfort zone. The Giants have an outstanding offensive line. The Eagles have to win this battle, and win it convincingly. Trent Cole has played well, but he has fewer sacks than he would like to have after eight games - three sacks - and I know he is excited to go out and play on Sunday night.
The other must for the Eagles to win is to start the game on a more positive note than they have started many games this season. There has been enough firepower to come back and win games against San Francisco, Atlanta and Seattle, but the Giants are an entirely different class of team. If you fall behind the Giants, they will pin their ears back defensively and collapse a quarterback's pocket with their ferocious pass rush, and they will eat the clock and pound away at the defense with a strong running game.
The Eagles must take advantage of the home crowd and what is going to be an electric atmosphere at Lincoln Financial Field on Sunday night and come flying out of the gates. Beating the Giants is important for an Eagles team that is 0-2 in the NFC East and two games behind New York. A win here tightens things considerably in the division and starts the second half of the season the right way for a team that historically plays its best football in November and December.