For the first time that he can recall, Matt Barkley will enter a football season without being his team's starting quarterback. Though Barkley was initially a contender in the Eagles quarterback competition, the battle eventually came down to a two-man race between Michael Vick and Nick Foles. For Barkley, the role of a reserve isn't something that he's used to, but it is something that he will embrace.
"It's different," Barkley told reporters on Tuesday. "But I think since the announcement came out about Mike, you kind of realize that's what it is. So you take it in stride and you learn to deal with it. It's not like a ground-breaking deal, I don't think. It's not that drastic.
"Obviously you want to see the field and you want to play, but it's just another opportunity to learn. I've said that before. You just try to grow every day… It's just new territory, but it's an opportunity to grow and learn. I've said that before and I'll keep saying it again. I just have to grow and learn as much as I can."
The rookie fourth-round pick out of USC will have to adapt to a new routine during the upcoming season. Even though he may not be seeing game action, Barkley knows that he cannot just sit back and let his first season go to waste.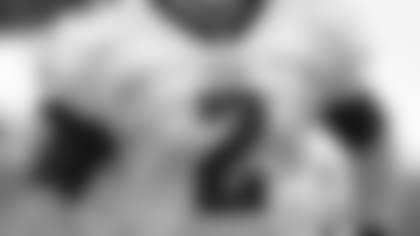 "That's what I don't want," Barkley explained. "I'm making sure that I grow and progress to I come back next offseason and feel like I'm steps ahead of where I was. I definitely don't want this to be steps back, so just take every day like it's your job to lose, even if it's not. That's how I look at it."
Though Vick has been named the starter, Barkley feels that the element of quarterback competition will always exist on NFL rosters. It's something he learned under the tutelage of head coach Pete Carroll at USC.
"That's my mindset, whether there's a label on the quarterback competition or not," Barkley said. "I think it's almost an obligation as a quarterback in the NFL that you have to compete for your job every day."
With the starters on offense projected to see no playing time in Thursday's preseason finale against the Jets, Barkley could be on the field for the majority of the offensive snaps. If Vick and Foles remain healthy, it could be the last time that Barkley plays for an extended period of time, but he's not thinking that far ahead.
"I'm taking this game and just looking at it like a Thursday night," Barkley said. "I'm not looking at what could happen or what will happen. I tend not to do that. I'm going to make the most out of this opportunity on Thursday night and just go out and try to put the ball in receivers' hands, move the ball and hopefully show that I'm an efficient quarterback who can run the offense."
When Barkley does take the field, he may be opposed by a fellow quarterback from the 2013 draft class. Geno Smith was taken 59 spots ahead of Barkley, but Barkley said that he won't be paying attention to Smith's performance.
"I never like to look at offensive versus offensive comparisons," said Barkley. "Usually you're on the sidelines during that time anyway, looking at the cards from up above and talking to your own guys. So if you have a free moment and you look over and see what he's doing, cool, but it means nothing."
Ever since he was drafted, Barkley has been faced with questions about his arm strength.  He feels that he has continued to grow stronger in his time with the Eagles, and that building strength will continue to be a priority moving forward.
"I think my arm strength has gotten better," Barkley explained. "Since the injury, I thought it took a lot longer to heal than we thought it would. I feel strong where I am right now. I don't know if I've had a chance to really showcase that, but that's not up to me. I'll do as much as I can to keep getting that arm stronger. Over time and over the course of your career, you should still be trying to get that stronger, and that's the goal right now."
As his first Training Camp comes to a close at the NovaCare Complex, Barkley believes that he has already learned a great deal about both his teammates and life in the NFL.
"I didn't really know what to expect," Barkley admitted. "I didn't know what to expect with a new coach here. All of the players didn't really know what to expect with the scheduling of Training Camp and all of that, but I thought it was a neat experience. I thought it was great to get to know these guys on the team and just to get that NFL rhythm, where all you're doing is football. You don't have to worry about classes or whatnot. It's great to be able to do that now, and I think I know what to expect in years to come, in terms of the preseason games and whatnot, but I'd say it was a good camp."