When Jason Kelce stepped away from the podium and walked down the steps of the Philadelphia Museum of Art on February 8, the phone calls immediately began to pour in.
Dressed head-to-toe in full Mummers garb, the All-Pro and Pro Bowl center inspired millions of fans watching his fiery, passionate speech as his fist repeatedly slammed into the podium, and his worn-out voice cracked in the frigid air.
When the day was finished, Kelce went from being a lineman beloved by fans for his talent and long tenure to a Philadelphia folk hero whose picture quickly became an internet meme and T-shirt design. It wasn't long before his publicist and the Eagles' public relations team received an avalanche of requests for his appearance. Kelce's offseason became a wild ride of speeches, visits, and connections with the Philadelphia community.
"I felt like I was being pushed and pulled in every direction possible," Kelce says. "After the speech especially, piled on top of the Super Bowl, I think everybody wanted me to host an event or do a charity thing or whatnot, so this was the one time I was really picking and choosing so diligently. But it was a lot of fun.
"Obviously, the season went tremendously well. The speech was something that I think came off pretty genuine and everyone felt like that, so it had a good reception and the rest of it was me trying to enjoy it and take it all in."
There was a lot to take in for Kelce.
In the early part of the offseason, Kelce played the saxophone and marched with the Avalon String Band whose outfit he borrowed for the parade. In February, he played with his high school band from Cleveland Heights, Ohio when students came to Philadelphia to play at Central High School. In July, he earned a one-day contract with the Philadelphia Orchestra where he performed for a large crowd of Eagles fans at The Mann Center.
His performances were spectacular, especially considering he doesn't have a lot of time to practice during the season.
"I have always been involved in music but it's not something I've really gotten too much into," Kelce says. "And then because of the Mummers and the Philadelphia Orchestra night came about, I was able to push that message of being involved in music. That was something I certainly enjoyed doing."
Kelce also spoke at various events and charity fundraisers, bringing his parade-swagger and underdog passion to each one. He even pumped up the crowd at a Flyers playoff game. Some appearances were planned, and others were spur-of-the-moment decisions.
When vacationing with his then-fiancée Kylie McDevitt in Florida, the couple decided to stop by Phillies Spring Training. Suddenly, Kelce was giving a motivational speech to a professional baseball clubhouse.
"I reached out to Gabe (Kapler, Phillies manager) and he was trying to use the Super Bowl as motivation and said, 'I'd appreciate it if you came to talk to us,'" Kelce says. "So, we kind of set that up on the spot. That was pretty fun."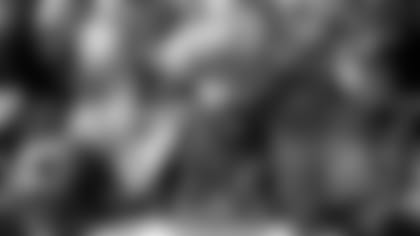 And the best moment of the offseason for Kelce was when he and McDevitt were married in April. Just about every teammate came out to Center City to celebrate with Kelce and his family.
"I feel like I took care of a lot of things in the offseason," Kelce says. "I've been with my wife for a while now and the fact that we were finally able to tie the knot and have so many loved ones come in and everything so that was a really special day for us.
"It was awesome just to, every single time you go out, feel the appreciation from the fans, and the way the city felt from the game and the speech and everything," Kelce adds. "It was fun to hear everybody's stories and it was just a lot of good stuff."
Kelce made himself a fixture in the Philadelphia community. And for his teammates, especially fellow offensive linemen who know him best, this was no surprise.
"I've seen it multiple times," says All-Pro right tackle Lane Johnson. "It's just the guy he is. He plays football with passion, lives life with passion. He's just a passionate guy and that's why he's such a good football player. He puts so much into it.
"I guess it's safe to say that Kelce is living his best life."
Rookie guard Matt Pryor didn't see the speech live while he was still in school at TCU. However, it's hard not to hear about it when coming in to play on this offensive line.
"Man, Kelce is fierce," Pryor says. "You can tell from his enthusiasm in the speech after the Super Bowl and even when breaking it down in the huddle after practice. He's very passionate about the sport."
Kelce's passion is apparent to everyone. Johnson says he has a "crazy side to him" that gets the entire offensive line pumped up on gamedays. But more importantly, the work he puts in and the talent he has makes every player around him better.
"He gives me a sense of calmness because he's so smart on the field for us, knowing assignments, and putting everybody in the right positions," Johnson says. "Just him doing his job so effectively makes it easier for me."
Offensive lineman Isaac Seumalo's locker is to the left of Kelce's. The 24-year-old, third-year player contributes all over the line but plays plenty of snaps at the center position, learning whatever he can each day from Kelce. Seumalo was chosen by Kelce as the standout player of Training Camp.
"I think intangibles-wise, everybody knows on the field how good of a player he is," Seumalo says. "But off the field, man, the leadership he brings and the mentality ... guys look up to him. When he talks, everybody listens."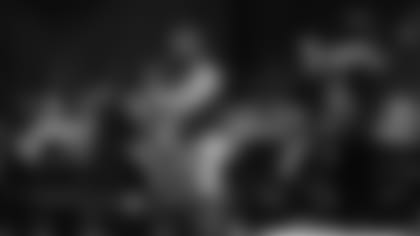 Last year was the most successful season of Kelce's career as he earned his second Pro Bowl distinction and was named All-Pro for the first time while anchoring the Eagles' Super Bowl Champion offensive line.
"My rookie year (of 2013), he was snubbed out of a Pro Bowl. It was probably the best year I've ever seen him play and he matched that last year too," Johnson says. "He's probably the best center you'll see in space."
"Oh, without question the best center that you'll see in space," right guard Brandon Brooks chimes in. "The closest dude I ever played with that reminds me of Jason Kelce is Chris Myers. But, as far as in space, I haven't seen anybody better than Kelce as long as I've been playing."
To his teammates, he is a remarkable athlete and leader. But to Philadelphians, he's more than just a solid rock at the center of one of the franchise's greatest offensive lines. He's become a spokesperson of the city's collective attitude and a perfect representative of Eagles fans.
"Honestly, I feel like he was always a culture figure in Philadelphia," Brooks says. "I think the thing he did at the Art Museum steps put him over the top but that's always been Jason Kelce. In the biggest moments, he rises to the top."
But while Kelce is happy to hold his place in the folklore of Philadelphia as he approaches his eighth season as an Eagle, he doesn't believe he is the only player on this team that accurately represents this city. To him, the best reflection of Philly is the entire locker room of players on the Super Bowl Champion Eagles. His attitude is best summed up by the words from his speech on the Art Museum steps that ignited millions of fans and will forever echo in Eagles history:
"I don't think there's any one person on this team that represents Philadelphia," Kelce says. "I think Philadelphia is such a diverse town, such a diverse area, that's one of the beautiful things about this team is that there's such a diverse group of people and we have more than enough guys on this team that represent this city well and represent this organization well."