Head coach Chip Kelly has explained that he will not do anything simply because that was the way it had been done in the past. He will question everything to make sure that he was doing what was best for his football team.
With that thought-process in mind, Kelly has made a number of changes to the way things are done within the organization. From playing music during practice, to implementing new sleep and nutritional programs, Kelly has made a fair number of changes inside the NovaCare Complex. Another change that Kelly made was the shuffling of the locker room. He replaced the pre-existing way that grouped players' lockers together by position by intermixing players from all three phases.
"We spend so much time together as an offensive line and we didn't really need to be spending any more time sitting next to each other," center Jason Kelce said. "In order to integrate some of the guys better, in order to make it more of a team feel, he wanted guys sitting next to each other who usually don't sit next to each other.
"It's way different. The last two seasons I pretty much spent all of my time in the corner over there (on the far right-hand side), sheltered in with the offensive line. Now I'm kind of all over the locker room, and guys are all over the place intermingling with people."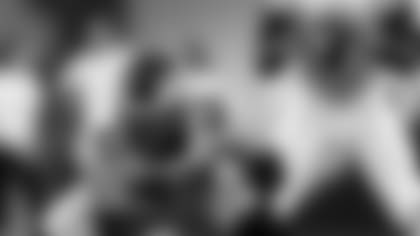 Kelce's locker neighbors quarterback Michael Vick. The two lockers have been next to each other all offseason, although Vick was just named the starting quarterback this week.
"I think that might have been a little foreshadowing maybe," Kelce said jokingly.
Safety Kurt Coleman, on the other hand, believes that the location of a players' locker should not affect his ability to interact with all of his teammates.
"Even when it was organized by position group, guys would still hang out with the guys that they wanted to hang out with when they had time," Coleman explained. "Even now that I'm next to (linebacker) Brandon Graham, if I want to go hang out with (linebacker) Trent Cole, I'm going to just walk down there and sit with Cole for a while. Nothing's really changed, but obviously you get to know a lot of guys from different positions on a daily basis, but if you're a good teammate, hopefully you do that anyway."
For linebacker DeMeco Ryans, the re-arranging of the locker room has slotted him between two players from the other side of the ball - tackle Jason Peters and wide receiver DeSean Jackson. This placement allows Ryans to be more aware of what's happening with the offense, and also affords the entire roster with more opportunities to relax.
"I think it's more of a team bonding-type thing," Ryans said. "I think it's good to kind of mix guys up.
"It's cool for me to just be around offensive players on both sides. It's fun having both those guys on both sides. I can talk about stuff going on with the defense, but now I have the insight of what's going on with the offensive side. You just get a chance to relax and talk about life and different things. It's just more relaxed. When you're around your position guys a lot, you talk a lot of football so it's good to be around these guys."
As the Eagles prepare for the upcoming season, they know that the chemistry in the locker room can have a large influence on the way the team functions out on the field. Even though it's early in the process, Ryans said that it is already at a great place.
"It's jelling together really well," Ryans said. "I feel like our team is really coming together. Guys are having fun, enjoying each other, hanging out together, so I think we're really jelling together and we have a tight-knit group with tight chemistry in the locker room. That does a lot for us when we step out onto the field."