Trevor Laws was happy to be back on the field Monday with his teammates. The defensive tackle has been sidelined during training camp because of a foot injury, but he had a solid practice his first day back.
"The body feels good," Laws said. "I still feel sore after practice but it's great to be back out here finally be playing some football."
During the one-on-one competition between the defensive and offensive linemen Laws preformed very well, using a variety of pass rushing techniques. He did not show any signs of being hampered by the ailing foot.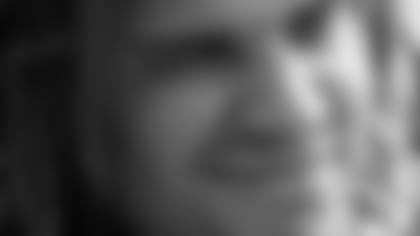 DT Trevor Laws
"I was able to make some pretty good cuts," he said. "I am definitely not 100 percent, but I am definitely in football shape, definitely playable."
Offensive guard Scott Young knew very little about Laws coming into training camp. But after facing off against the Eagles' second-round pick in practice, he is definitely more familiar with him now.
"He looks fresh. He's got fresh legs," Young said. "He looks quick. I am impressed with his quickness and balance. I think he is going to be a good player."
Laws made his return to the field as two of his Notre Dame alumni were bitten by the injury bug. Laws' college roommate, defensive end Victor Abiamiri, is expected to miss a significant portion of training camp with a dislocated bone in his right wrist. Linebacker Rocky Boiman missed Monday afternoon's practice with a lower leg contusion.
The leading tackler of all the defensive linemen in college football a year ago has dealt with his fair share of bumps and bruises in the past. Training camp shows the true character of individuals and how much they can tolerate. Laws is ready to move forward, continuing to make life miserable for the opposing offensive line.
"Being a football player and wrestler, I have been through some stuff," Laws said. "Once you're out there (on the field), you're out there."