As a seventh-round pick in this year's draft, King Dunlap might have heard fans yell his name more than he expected at training camp.
But take a few seconds to develop a mental picture. What, exactly, should someone named "King David Dunlap V" look like? Chances are, the real King Dunlap fits that bill. So, are the fans' cries all that surprising?
"I hear everything they say, man," Dunlap said. "They wait until it gets real quiet. And then, they go, 'Hey Dunlap! Kneel down. We can't see!' I get that at least four or five times every practice."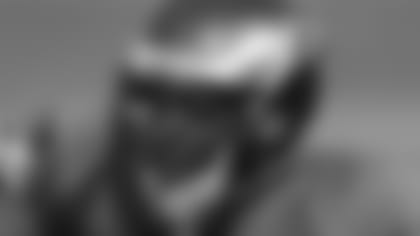 T King Dunlap
It'd be a feat to miss Dunlap strolling the sidelines at practice – he isn't King of the Hill so much as he is the hill itself. At 6-foot-9, the Everest of an offensive tackle certainly looks the part of a blindside barrier for whichever quarterback is lucky enough to take snaps to his right.
But questions of footwork and consistency dropped the once potential first-day pick into the Eagles' laps with the 270th pick. The Eagles wanted him to put some weight on his frame (he's jumped from 310 to 325, Dunlap said). There's no doubt about it; he's a project. The pure definition.
So, despite how unnecessary it seems, Dunlap is under the microscope.
"He's moving around very well. He's got very long arms and knows how to use them," head coach Andy Reid said. "He's not afraid to play the game out in front of him. I've been impressed with the way he's handled himself."
The bar for King has always been set high – heck, at 6-foot-9, how couldn't it be? But even as a 5-11 linebacker entering high school, he had expectations to live up to. His father, King Dunlap IV, had played three seasons as a defensive tackle in the NFL. So, rising to the challenge, Dunlap V sprouted six inches over the summer before ninth grade.
Still, ask Dunlap if he'd be playing at this level less than a year ago, and his response could reek of uncertainty, the same uncertainty on which the Eagles were willing to take a waiver on draft day. He'd been benched for a few games as a senior at Auburn, just a season after he replaced now-Charger Marcus McNeill at left tackle, and had to crawl his way back up the mountain.
Draft experts said he might be a perfect candidate for the practice squad. And, in his first training camp, his planting foot's been bothered with a sore ankle, a high ankle sprain that's bugged him since Auburn's bowl game. But he's managed to secure steady reps with the second team at left tackle. He's not going to step aside yet.
"It hurts, but I still have to get out there and move my feet," Dunlap said. "(Offensive line) coach (Juan) Castillo is big on that, and if you don't, you're going to pay for it."
But Dunlap's seen the talent Castillo has molded. He's seen the improvement in himself since the initial post-draft minicamps.
Will he make the 53-man roster? He won't tell you for certain. He doesn't know.
All he knows is that he's at the bottom of the hill, looking up. Pretty amazing, when you picture it.
"In the end, when it comes down to it, it's the people upstairs that make those decisions," Dunlap said. "So, I don't know exactly where I am. I just know that I'm going to keep working hard, and hopefully I find a situation where I'm going to make the roster."