It's no reflection of the current state of the quarterback competition and the first-team reps will be split nearly down the middle, but Michael Vick will start the Eagles' preseason opener against the New England Patriots on Friday night at Lincoln Financial Field. The reason? Because it's his turn in the rotation, as head coach Chip Kelly explained Thursday.
"Nick (Foles) will start next week," Kelly said. "It was Mike's day in the rotation, that was the easiest way for us to do it and then we'll make sure the rotation works out that Nick will get the start next week. The two of those guys, we feel like we've got it balanced out. We met with those guys this morning, they were great with it, so that's kind of our plan going in."
Ideally, Vick and Foles will play the same amount of reps on Friday night and are expected to rotate every series. Kelly said rookie Matt Barkley will play the second and third quarter while Dennis Dixon and G.J. Kinne work under center in the fourth quarter. Vick and Foles will, ideally, each play between 12 and 20 snaps, Kelly said.
"Sometimes something happens where a guy got two snaps because there was a turnover that happened that wasn't their fault, but we're going to try to balance them as much as we can," said Kelly. "Sometimes that doesn't always work in the way you want it, but in the ideal world we'll split the number of snaps but we'll do it by series."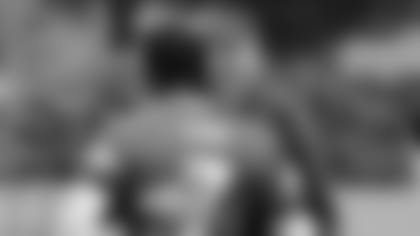 Though the in-game sample for Vick and Foles will be small, their respective performances are likely to be weighed more than their play during practice.
"I've said it all along, it's very difficult to evaluate somebody in just helmets and shorts," said Kelly. "That's not how the game is played, so obviously I think our practices from an intensity level, we're ramping up a little here just because the Patriots are here - on both sides I thought, it was great, great, great work for us. For guys that are competing right now, the preseason has to be the same way. If that's not your approach as a player, you're going to get passed on by."
The first-team defense will also play about one quarter and will feature Brandon Boykin and Bradley Fletcher as the starting cornerbacks with Nate Allen and Patrick Chung as the starting safeties.
Along the offensive line, Lane Johnson will start at right tackle while veteran Allen Barbre will get the starting nod at left tackle with Jason Peters sidelined temporarily. Barbre has worked with the first team at left tackle since Monday.
"Allen was a tackle in college and has really shown every day, you keep talking about how are we playing and Allen again, Allen again, and we finally thought he deserved a shot to get put in the first group," Kelly said. "I thought he really competed well the last two days against a pretty good front for the Patriots and hopefully we'll get a chance to see him. Part of our deal, especially with Dennis (Kelly) being out right now, is developing some depth at tackle. You feel like Jason (Peters) and Lane are two real good prospects there, but obviously we're a play away from someone else being in the game. We've kind of been pleased with the way Allen has responded to us moving him out there. To have a guy who has some flexibility as a guard-tackle guy, I think that helps us."