Chip Kelly met with the media one final time prior to Sunday's game against the San Diego Chargers. Among other topics, Kelly touched on the state of the Eagles running attack and what he expects from Eagles fans in his regular season home debut.
The Eagles ran the ball 49 times for a whopping 263 yards against Washington in the season opener. Both of those numbers led the NFL. With those statistics in mind, Kelly was asked if he would gear up to stop the run if he had to defend the Eagles this week.
"Fortunately, I don't have to, so I don't think of it that way," Kelly replied. "The one thing about us offensively is that we do have a very good running attack based on one game, but we also have receivers and tight ends that you have to cover too. We understand how the game is going to be played, and if you're going to try to take away one aspect then we have to be able to execute another aspect."
LeSean McCoy was responsible for 31 of those 49 carries (63.3 percent). Kelly said he doesn't come up with an optimal amount of carries for McCoy when creating a game plan, but he also wants other players to be more involved.
"We don't talk about (number of carries)," Kelly said. "It's 'How is the game going to express itself?'. We know that we need to get other guys in there. We have to see Bryce (Brown) a little bit more, but we haven't talked about there being a certain number of carries for him."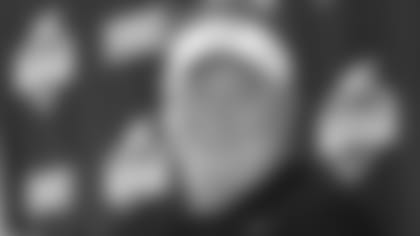 Around the NFL in the first week, a record was set for most total passing yards (8,143) and most total passing touchdowns (63). Kelly warned caution to those who are forecasting a trend based on those numbers.
"It was one week, that's my theory," Kelly explained. "Next week when there are three shutouts and no one scores then the next question is going to be that the defenses have all caught up to the offenses after one week. I don't think that you can gain any statistical gains or knowledge or help from one week. I just don't think there's enough information out there."
After opening on the road, Kelly will receive his first taste of regular season action at Lincoln Financial Field this Sunday. According to Kelly, it is critical to maintain an unchanging schedule when preparing for both road and away games.
"One thing that we do try to do is be very consistent in our approach," Kelly said. "We meet at the same time. We make sure that everything's pretty consistent with where we are. We go to a hotel when we're at home and we go to a hotel when we're away, so our meetings will be the same exact time for the San Diego game as they were for the Washington game. The only difference is that on the day of a game, because we aren't playing at seven o'clock at night, we're playing at one, so we (make) our schedules accordingly, but it's the same thing. We eat four hours pregame. We have Mass and chapel four-and-a-half hours before the game. The first bus leaves from the hotel at the same time, so there's a consistency in our approach, and I think that's what most team's do. That's not a revolutionary concept. I think everybody tries to keep them in that same mentality."
As for the actual game itself, Kelly is looking forward to his first game coaching in front of Eagles fans, although he says he has already experienced some of that fan support.
"The one thing that was amazing to me was to hear the Philadelphia fans chanting 'defense' when we were at Washington in that fourth quarter," said Kelly. "That part is going to be exciting. It doesn't mean that one (environment) is going to be better or different than the other. There's something about being out in a hostile environment that you can kind of wrap your arms around, but if I had my choice, I'd rather play every game at home."
Finally, Kelly updated the status of cornerback Bradley Fletcher, who suffered a concussion Monday night.
"I haven't heard anything yet," said Kelly. "That's an on-going process. Especially with an injury such as (Fletcher's), that's all in the doctors' hands. There's also an independent (doctor) that will see him and if they say that he can play, then we'll make some decisions as a coaching staff on where he is, but we still have three training sessions – Thursday, Friday and Saturday- before we get any of that final information in terms of who's going to be available on Sunday. I don't think he's practicing today."