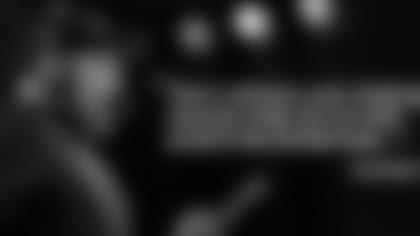 With the Eagles coming off three straight losses, including two by a margin of more than four touchdowns, fans didn't know what to expect from the team when it traveled to Foxborough, Massachusetts to take on the 10-1 New England Patriots this week. After a 45-14 trouncing at the hands of the 4-8 Detroit Lions on Thanksgiving, Philadelphia had 10 long days to mull over that humbling loss. But instead of allowing disappointment surrounding the recent struggles to fester, the Eagles focused their attention completely upon getting back in the win column in Week 13.
After falling behind 14-0 early in the game, the Eagles rattled off 35 consecutive points to go ahead 35-14 with six minutes left in regulation. The Patriots were able to respond with two quick touchdowns late in the fourth, but Philadelphia forced New England to turn the ball over on downs with under a minute left to ice the game and take the 35-28 victory.
"I've always been proud of (this team), and I told those guys that, that sometimes they don't see in them what I see in them," said head coach Chip Kelly after a much-needed victory that brought the Eagles to within a half a game of the lead in the NFC East. "I know we have a good football team, and they showed it today. And they've shown it at other times during the season, and the last two weeks we didn't show it, and that's what was disappointing for them."
This was Kelly's first meeting with the Patriots since he was hired by the Eagles in 2013, but it wasn't lost on the third-year head coach how difficult it is to win in Foxborough. Including playoff games, the Patriots had enjoyed a 27-1 record at home over the past three seasons entering Sunday's game. Kelly and the Eagles knew they'd need not to just limit mistakes, but to come away with some big plays on both sides of the ball to upset New England. That's exactly what they did.
Although it wasn't reflected in the final score, the victory was more a reflection of the Eagles' dynamic play on the defensive side of the ball than anything else. Three of Philadelphia's five touchdowns came via special teams and defense, with Chris Maragos blocking a punt that was returned 24 yards for a touchdown by Najee Goode, Malcolm Jenkins bringing back a goal line interception 99 yards for a score and Darren Sproles taking a New England punt 83 yards to the house.
The defense got pressure on quarterback Tom Brady all game long, forcing not just the Jenkins interception, but another pick by Byron Maxwell on a long heave into the end zone from Brady. It marked the first time since Week 11 of last season that Brady threw multiple interceptions in the same game, and the two picks were Philadelphia's first and second ever against the veteran signal-caller. Philadelphia's front seven racked up more than a dozen hits on Brady, bringing him down four times – twice by Connor Barwin and two more times by Brandon Graham.
"I think the pressure we got on the quarterback was instrumental, and then when you've got a blocked kick for a touchdown, you have an interception returned for a touchdown, a punt returned for a touchdown, it takes those things to win in this stadium against that coach and that quarterback," Kelly said. "I think we generated pressure. ... I thought the effort that our guys played with up front was really, really good and that's what we needed from those guys."
The Eagles' offense was on the field for just 58 snaps, its second-lowest total this season, but they made the most of their opportunities when they were out there. Sam Bradford protected the ball, stringing together his third straight game without an interception, and he had a couple really nice plays in the red zone – a 5-yard strike to Zach Ertz in the back of the end zone and a 10-yarder to Jordan Matthews that was placed just beyond the reach of Super Bowl hero Malcolm Butler to where only the second-year receiver could catch it.
Because of Philadelphia's three non-offensive scoring plays, the dynamics of the game were skewed a bit, causing Bradford to attempt just a season-low 24 passes. But he competed 14 of them for 120 yards, earning a 99.3 passer rating. More importantly, he impressed Chip Kelly, who spoke glowingly of the first-year Eagle after the game.
"He's grown every game, that's why it was so unfortunate (that he got hurt in Week 10), because he was playing really well," Kelly said of Bradford, who put together two weeks with a passer rating above 100 before missing the Eagles' last two games with a concussion and non-throwing shoulder injury. "I think he's very smart with the football. ... He's got eight or nine games (with us) underneath his belt, but I think you've seen improvement out of him."
At this point in the season, every game is critical. And with the fate of the NFC East still very much undecided with just a quarter of the season remaining, the team has a chance to forget the early-season struggles and treat this as the start of a new, four-game campaign. It all starts next Sunday, as the team returns to Philadelphia for the first of three straight home games, a 1 PM meeting with the 6-6 Buffalo Bills.
A look back at some of the key players against New England that helped lead the Eagles to victory. View the full gallery here...