Defensive coordinator Jim Johnson is in tune with every aspect of his defense and each member that is a part of it. Some guys have lost weight, put on weight, come to camp in better shape physically or mentally and Johnson has taken notice.
Asante Samuel is listed day-to-day with a hamstring injury, but he still sits in on all the meetings and can study in preparation of the season, and according to Johnson it is working out.
"You are always concerned about any guy getting an injury, but he is staying in the meetings and just from what I saw, early in this camp before he got injured, I saw him really kind of learn the defense," he said. "I think he is more comfortable with the defense and he is having a good camp."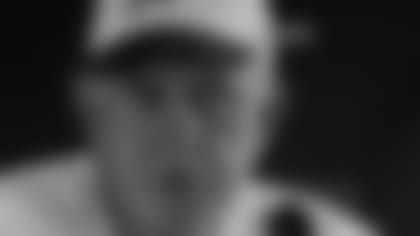 Defensive coordinator Jim Johnson
The area of the defense that had a steady supply of depth was the defensive line, but with rookie draft picks Trevor Laws and Bryan Smith out with injuries, Johnson has had to rotate in different personnel. Pro Bowl defensive end Trent Cole took some additional reps with the second team because they were short some guys.
At the opposite end position, Victor Abiamiri and Juqua Parker are continuing to share snaps with the first-team defense and their battle is a close one.
"Victor, to me, had really a good year last year and he'll be playing a lot on first and second down and so will Parker," Johnson said. "(Parker) is maybe a hair better of a pass rusher, but Victor is getting better too. I think it will come down to down and distance situations with those two."
During every successful season there must be a player or two who will step up and take people by surprise. That makes it more difficult for opponents to gameplan against the Eagles defense and allows talented players to fly under the radar, making big plays. Trent Cole is an example of that last season. Johnson and his staff have been paying close attention to see who can emerge from the group as an impact player.
"We're always looking for pass rushers. I think Darren Howard is in the best shape he's been in since he's been here," Johnson said. "I think his weight is down, I think he's healthy, I see a lot of good things out of Howard. He looks quick to me. I think he had a great offseason, as far as working on it and being around the complex also. He just looks like a different player to me right now."
There are a number of other defensive linemen that Johnson points to as having the ability to help the team out.
"We are counting on them," he said. "We are counting on Victor being a better pass rusher. That's why we got Chris Clemons; we're going to be using him in nickel. I feel pretty good about our ends, as far as pass rushing. Now, we have to develop some inside people, that's why we sometimes use Howard inside and also Parker inside in nickel situations, too. I think we have some good rushers outside and we're trying to get some good rushers inside."
Dan Klecko is an inside pass rusher that relies on his speed and smarts to get past the offensive line since he is 5-11 and 275 pounds.
"So far, we've seen some good things about him," Johnson said. "He's not the biggest tackle, we know that, but he's always had that pretty good quickness, so again he could be a role player for us."
It's the combination of players that have speed, strength, and size that make the Eagles defense so impressive on paper. But it is Jim Johnson's understanding of each individual's strengths and weaknesses that allow him to be referred to as "the mad scientist."