Please leave your well-wishes for Coach Johnson below in our Comments section. We will pass them along to him ...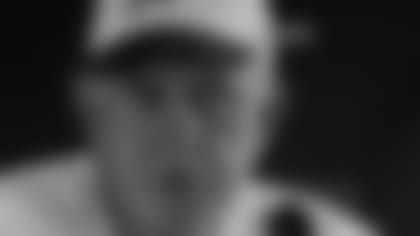 Defensive coordinator Jim Johnson has been granted a leave of absence for an indefinite period of time due to his continued treatments for cancer. Secondary coach Sean McDermott will coach the defense in the interim.
"Jim and I agreed that he needs to concentrate all of his efforts on his recovery," said head coach Andy Reid. ""His health is number one. He's struggling, but he's a tough guy and a true battler. I hope everyone will keep him in their thoughts and prayers during this period of time. We hope to have him back with the team as soon as possible."
Johnson has been undergoing treatment for melanoma in his spine since February. Since the diagnosis, Johnson had not changed his work schedule until now.
"I feel good," Johnson said at the post-draft mini-camp. "I appreciate all the concern about my injury; I really do, from the fans to (the media). I feel good. I'm still going through treatment. The biggest thing I'm trying to get now is the pain out of my back. I have some broken bones in the lower part, so that allows me not to be on my feet quite as much. But with everything else, I feel fine."
One of the brightest, young defensive minds in the league, Sean McDermott enters his 11th season in Philadelphia. McDermott was named secondary coach on Jan. 28, 2008, after a successful one-year stint as linebackers coach in 2007. Under his guidance in 2008, two players (free safety Brian Dawkins and cornerback Asante Samuel) garnered Pro Bowl honors. McDermott originally joined the Eagles in 1998 as a scouting administrative coordinator, a position he held until being promoted to assistant to the head coach in 1999. He has also served as a defensive assistant/quality control coach and an assistant defensive backs coach during his tenure with the Eagles.