When the Eagles used a fourth-round draft pick on safety Quintin Demps a year ago, the Eagles knew they were getting a playmaker. Demps finished second in Texas-El Paso and Conference USA history with 17 career interceptions, the largest total by any player in the 2008 draft class.
The Eagles also got a player who was not short on confidence. In his introductory conference call with reporters after he was drafted, Demps declared that he was "not a Pro Bowl player" but a "Super Bowl player."
There is no question that his development and production as a rookie deserved merit. After winning the kickoff returner job away from Lorenzo Booker in the preseason, Demps brought a spark to the return game along with fellow rookie DeSean Jackson. Demps averaged 25.3 yards per return and had two of more than 60 yards - one of which was a 100-yarder for a touchdown against the Baltimore Ravens. The Eagles did not have a kickoff return of more than 40 yards in all of 2007.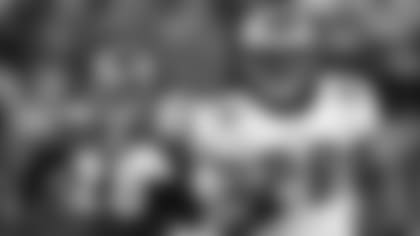 Demps' kickoff return for a TD against Baltimore was a career-long
As the season wore on, Demps became more and more involved with the defense. Coordinator Jim Johnson began utilizing Demps in a three-safety base package to help defend better against the run without having to take a linebacker off of the field. He made the first start of his career in the Wild Card win over the Vikings.
For the season, Demps finished with 1,314 kickoff return yards, the second-highest single-season total in franchise history (Allen Rossum, 1,347 yards, 1999). He was tied for third on the team with 19 special teams tackles.
The season didn't end the way Demps would have liked, however. Demps was beat by Larry Fitzgerald on a trick play for a 62-yard touchdown in the second quarter of the NFC Championship Game. Demps also committed a personal foul when he leveled quarterback Kurt Warner way after he threw the ball. That penalty eventually resulted in an end-of-the-half field goal.
On Friday, two Eagles safeties could hit the open market - Sean Considine and Brian Dawkins. If neither player was to be re-signed, Demps could be asked to slide into a starting spot in 2009.
How ready would he be for it?
With the ability to play a sort-of cornerback/safety hybrid, Demps started out much like Dawkins did. It would be very difficult, however, to imagine replacing a seven-time Pro Bowl player who belongs one day in Canton. Not just from a leadership standpoint, but Dawkins has evolved into an outstanding blitzer who disguises his intentions well, a fierce hitter who can knock or strip the ball loose at any point and a key factor in helping stop the run. Demps has shown he can be a ballhawk, but he has to diversify and develop like Dawkins has.
No matter how the Eagles address the safety position, Demps must build upon the strong foundation he set in 2008. Demps certainly has the potential to be a very good starting safety, but will the Eagles expect that from Demps now or later?