In the NFL, it was 2008 A.D. One hell of a year.
There's the old saying that you can't win in the NFL playoffs if you can't run the football. Vikings running back Adrian Peterson does it better than most. No. 28's 1,760 yards of pure workmanship led the league, and it will be up to the Eagles to stifle the second-year back's attack on Sunday at the Metrodome.
And there's a reason the nicknames aren't very subtle – Purple Jesus, All Day (A.D. for short). It's because Peterson is really that good.
Should the Eagles falter against Peterson, it will be a long day. All Day.
"Our focus is ... establish the run game and get it going," Peterson said.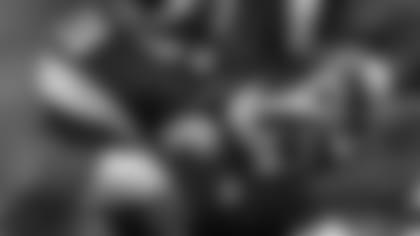 RB Adrian Peterson
To put things into perspective, Peterson's gained more yards on the ground than 13 teams, including the Eagles. His 10 touchdowns on the ground are either greater than or equal to the output of eight squads, as well. Legitimately, A.D. is a machine, a workhorse. It's a big help for quarterback Tarvaris Jackson, the embattled Minnesota starter who's won, lost and won the job this season. Jackson's been very good for the past three weeks, largely in part to Peterson's dominance.
Peterson has 10 100-yard rushing performances this season, more than every single NFL team except for Carolina, which used two backs to get there (DeAngelo Williams and Jonathan Stewart). The Vikings, 10-6 overall, are 7-3 when Peterson breaks the century plateau – including winning the last six in which he's done so.
But Peterson does have a challenge for himself, as well. The Eagles possess the NFL's fourth-best run defense, and they have allowed just three 100-yard individual days all season (Washington's Clinton Portis, San Francisco's Frank Gore and New York's Brandon Jacobs). In those games, the Eagles are 1-2.
In short, don't let him get hot.
"He's really good. He's a tough guy to tackle," defensive tackle Mike Patterson said. "You kind of treat him like Jacobs; you just can't depend on one guy to tackle him. You got to get guys around him."
Last season, the Eagles got a heads-up on Peterson, holding the dazzling rookie to 70 yards on 20 carries – two weeks after he romped for 224 and a week before he set an NFL record with 296 yards.
But neither Peterson nor the Eagles' defense takes much credence in what happened 14 months ago.
"This year he is more patient. He will hit (the hole) inside and then bounce it (outside)," free safety Brian Dawkins said. "Even last year he was a dynamic runner and that hasn't changed … You can bottle him up for three straight quarters and all of a sudden if you get out of your gap in that fourth quarter, he can gash you for a couple of long big runs."
The Eagles know they have to slow Peterson down – stopping him is another beast entirely. But Peterson is a little worried about something that might help Philadelphia – the Vikings' own "home-field advantage." As of now, the game at the Metrodome is not sold out.
"We would love to try to keep those green jerseys out of the stadium," Peterson said. "But there's one main goal – to go in and take care of business."