July 22 will be a day of many firsts for Philadelphia Eagles Training Camp. It will be the start of the first Eagles camp to be held in Philadelphia since 1943, as well as the first NFL camp for head coach Chip Kelly. Before he made his final preparations, Kelly sat down for a roundtable session with reporters to provide insight on a wide array of topics. Here is Kelly on the logistics of staging Training Camp in Philadelphia and how he will conduct his practices ...
On where the players will be staying: "They're staying at the hotel. … The first part of camp, everybody's in there, and then we'll let them out. But the rookies obviously will stay because they have nowhere to live (for the) first week or so. Then, they'll go home because they live here. When they're at Lehigh, they can't go home. Just to start, so we're all in the same situation, everybody's together. Then we'll break."
On where/when team meetings will be held: "Meetings at night. Everything's here (at the NovaCare Complex). The only thing they're doing there is sleeping."
On meals/rooming assignments during camp: "We have a pretty good (cafeteria) here so we'll do everything here from a meal standpoint. We haven't talked about (rooming). We haven't got to the specifics of who's with who."
On the advantages of having Training Camp in Philadelphia: "I just think we have everything here so the fact that we would pack everything up and move, that didn't make sense to me. All our video stuff is here. Our servers are here. You're dealing with portable laptops and hoping you can get practice on it. You have issues when it rains up there. Where do you go? Our training facility in terms of how we want to lift (is here). Why would you move everything to go somewhere else?"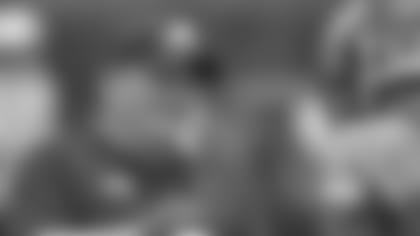 On the difference between camp at the collegiate and professional levels:"It's just longer. It's still the same exact thing. We had 27 opportunities for practice at the NCAA level, and I think we have 28 here. The only difference is we play four games here and we had three scrimmages in college. It's less (hitting) here than it is in college. In college, you can put the pads on I think by the third day or the second day and then it's not regulated at all. It's always been football, though. The only difference is obviously that the season is longer and the size of your roster is different, but the game of football is still the same. It's still 11-on-11. It's still us going out there and being more fresh and ready to play than the other team."
On having practices during the middle of the day: "That's when we play. So, 12 or 14 of our 16 games are played at 1 o' clock, so we try to prepare to play."
On whether practices for night games will be held at night: "No, because I think it throws your schedule off just for one day. If we were going to play six or seven games consecutively at that time, then we would try to change our schedule."
On spending time going over practice plans: "That stuff is done. And it's always been that way. We're prepared. We know how to practice. We know what practice is, (whether it') a full day, a three-quarter day, a half day, two days before the game, or one day before the game. That stuff's always been mapped out."
On what the players should expect: "I think a lot of them know that already. That's why you asked me the question last week of what's our Training Camp going to be like, well it's going to be like the same thing we did here(in OTAs). So it's not like we're going to drastically change from what we did. If we did, then basically we're kind of full of crap with what we did the whole offseason. It's more of the same in what our approach is and how we're going to do things."
On playing music during practices, rather than crowd noise: "They just have to learn to block it out. It's like crowd noise. I don't like crowd noise. That kind of grates to you a little bit. You learn how to perform when you're not paying attention to anything else except for your time-on-task. It just has to be loud. The particular songs don't matter. As long as they can get their job accomplished, it depends on how you handle it. It's just like playing in a game. You need to focus on what you're supposed to take care of on the field not the crowd itself, not the crowd noise, none of that stuff. "
On teaching through video, rather than stopping practice: "It's time-on-task. If you stop one guy in a drill, then there are 21 other guys standing around, so how much time can you spend on the field? Our educational philosophy here is that, 'I hear and I forget, I see and I remember, and I do and I understand,' so we want them doing it.
"You can only talk so much, and show them so much and tell them so much. They have to actually do it, so when you go to some practices and they only get 15 reps at something and they've only run one play one way, just to the left, then the right tackle never got a rep at it, and then you expect him to execute it during the game. Who's to blame? Us, because we probably didn't put him in that situation where he had a chance to see what just happened to him, so we're trying to get as many reps as we can, and then be efficient with cutting our practice tape up so that when we go into our meetings, usually when they do well you don't have to repeat that because they have it. We're going to take play 1, play 7, play 10, play 15 and then go into our meeting and be really efficient with our time."
On players being in shape, compared to past seasons: "I was not here, so I can't compare it to anything else, so I don't know if we are in better shape than in years past."
On keeping players in shape during the offseason: "The best way to never get out of shape is to never get out of shape. That's a thing that happens in every sport. If you look at the sports similar to us, when you start to get in shape, out of shape, in shape, out of shape, that eventually catches up to you and you end up then getting injured trying to get back into shape, and it kind of sets you back. So if you can stay consistent in your approach to things, and obviously through what we are doing lifting-wise, we're not always lifting heavy for a whole year. There's a period process that goes through in-season and out of season lifting, but they're not taking a ton of time off. The days of taking two months off and then starting back up, I don't think there's any sport that's doing that right now."
On having shorter practice periods: "You've got X amount of time for individual, and X amount of time for group and X amount of time for team, so we just break it up accordingly. You can't have a two hour practice that is just all individualized, but you can't go out there and have a practice that's all team, all 11-on-11. It's just whole-part, whole-teaching, so you kind of bring things down to the individual and what they do and then we get together as a group. So if you watch our receivers, they kind of learn the route and then they run it one-on-one with the quarterback, and then we throw all the receivers at once with the quarterbacks, then we put a defense out there and go seven-on-seven, then we put the whole thing together and we go 11-on-11, so it's a whole-part, whole-teaching concept."
On having designated teaching periods during practice: "Our breaks, when you're talking about our teach periods, are when we've just gone full speed for 12 minutes. You can't go full speed and practice for 25 minutes and practice the way we want to practice. We just have to break up those 11-on-11 periods, so you're going a 12 minute full speed at 11-on-11, and then there's a five minute teach period where people are actively learning but we're not running them. We can't ask them to practice as hard as we want them to practice, but then there's never a break in there. So the teach period is a physical break, but it's not a mental break."
On finally seeing his players hitting with contact: "Well obviously it's different here than it is in college because we didn't have any preseason games in college. We usually had three scrimmages in college that we brought referees in for. It's a little different here because you're going to get full contact on four occasions with the Patriots, Panthers, Jaguars and Jets. It'll be sprinkled within though. You still have to do a certain amount of it. That's the biggest thing that we haven't been able to do in this offseason because we don't have shoulder pads, so trying to make full evaluations of who players are and what their abilities are. If you can't be physical and hit people, then it's an entirely different game. The offseason is an entirely different game than the preseason just for that fact."
On mixing up the hitting during practices: "You have to. There are certain amounts of work you have to get done, but you can't go full-go every single day. You still have to be cognizant of that fact that you have to prepare for a season and prepare for games. That's the big catch-22 for all coaches is how much work do you need to get done, but also you don't want to injure any of your own players in practice. That's kind of a fine line and it's the toughest one I think coaches have to handle. How physical can your practices be? The game's certainly going to be physical, but you've always sort of got your fingers crossed that you're not going to get anybody hurt in practice."
On whether his players will be tackling to the ground during practices: "If we have some scrimmage situations, they will."
On whether there will be tackling to the ground during the joint practices with the New England Patriots: "No, because we have a game three days later."
On whether or not seeing Bill Belichick's practices will influence Eagles practices: "No. We're going to run it the way I run it."
On how practices will be different during the season: "(There are)just less players and you're not going to be able to get as many reps as we are now. The pace will be about the same, but we're not going to get as many plays."
On whether or not he needs to "mark his turf" in his first camp: "I'm not that deep. I don't ever think that way. I don't think of signature moments and those things. We're just trying to give our team a chance to envision what they have to do. I get up every day, and we have a vision of what this thing's supposed to look like, and we keep working towards that vision. I think sometimes if that's the way you think, then you may be a little full of yourself, to be honest with you. Maybe if you had a bunch of guys with you that were bucking the system, you would say 'This isn't the way it's going to be.'
"But again, these guys have been fantastic since day one, so there hasn't been a time where I've had to say 'Hey, here's why.' I think these guys, they want to win. That's the one thing that was extremely evident from the first conversation I had when I got here in January, to every single day when these guys are here. They want to win, they want to prepare and that's the fun part of this job. I didn't know what it was going to be like, but that part has just blown me away as far as how receptive these players have been, but the bottom line is that's what they get judged at. We're all going to be judged the same way, and that's did you win or did you lose, so it's a lot easier when we're all going in the same direction, as opposed to fighting it."