Donovan McNabb accomplished a lot in 2008.
He orchestrated the offense that scored the most points in franchise history. After he was benched for the second half of the loss in Baltimore, McNabb rallied to play his best football of the year and lead the Eagles to wins in four of their final five games to reach the playoffs.
Along the way, he set the single-season franchise record for passing yards (3,916) and completions (345). Once in the postseason, McNabb was brilliant in a pair of wins on the road, including one against the defending Super Bowl champion New York Giants, to reach the NFC Championship game for the fifth time in eight seasons. Even though the Eagles eventually fell short in the conference title game, it wasn't before McNabb lifted the team from the doldrums to overcome an 18-point halftime deficit against the Cardinals. McNabb threw for a playoff-career-high 375 yards and three touchdowns in the game.
"You never want anything to end, especially the way things went for us, just the streak and being able to play as well as we did in the two playoff games," McNabb said after the season ended. "You never want it to end. I think guys really challenged themselves to do better, bring their A game and make sure that they were there for their teammates. To end this way, it's tough, when you're that close to making it to the Super Bowl. This team has really pulled together, and it was the type of nucleus that you definitely want. It's tough to see the guys and know how they're feeling."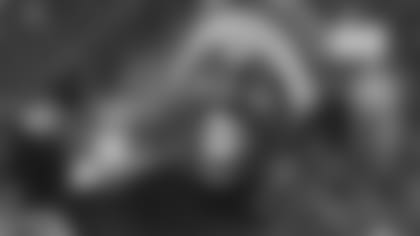 There's no reason that the good times should stop for McNabb anytime soon
As good as McNabb was in 2008, the scary part is that at 32 years old we may not have seen the best of No. 5.
The NFL is called "Not For Long" for good reason. According to the NFL Players Association Web site, the average length of an NFL career is just 3 1⁄2 seasons.
McNabb is fortunate enough to play at one of the few positions that breeds success even after a decade's worth of experience. Jim Kelly led the Buffalo Bills to the Super Bowl at age 32. That season, he was third in the league in passing yards and touchdowns. Warren Moon led the league in passing yards and touchdowns at age 34. One year later, Moon led the league in passing yards again and guided the Houston Oilers to the Divisional Round of the playoffs. John Elway, of course, was 37 and 38 years of age when he brought Denver its back-to-back Super Bowl titles.
"Fine like wine, baby," McNabb said late in the season when asked about his age. "I think the cop-out at times is people saying, 'He's getting too old' or, 'He's not able to do the things he was able to do back five years ago.' None of us can do the things we did five years ago. ... But you know what? That's just something that people can just cling on to and everyone goes with it.
"It's really the position that you're in. Given the opportunity, some guys flourish and some guys don't. Thirty-two years old is really not old, that's almost at the prime of your career."
Not that fans should have to wait another five years before the Eagles touch off a parade down Broad Street. The pieces are in place for the offense to make quick work of the records that were set in 2008. Brian Westbrook remains one of the most electrifying dual threats out of the backfield in the entire league and this past season he scored a career-high 14 total touchdowns and amassed over 1,300 yards from scrimmage.
The wide receiver corps is the deepest and most talented in McNabb's career. The six receivers, anchored on the outside by speedsters Kevin Curtis and DeSean Jackson, combined for 197 receptions this season - the most by the receiver unit in McNabb's career. Four of the six receivers had at least 30 catches. Brent Celek emerged as a big-play threat at tight end with his 10-catch, two-touchdown performance in the NFC title tilt.
The offensive line, even with Tra Thomas' departure, has talented and young pieces in Shawn Andrews, Todd Herremans and Jamaal Jackson plus guys like Nick Cole and Max Jean-Gilles, who stepped up big for the team this past season. Don't forget the free agent addition of Shawn's older brother, Stacy, to the starting lineup.
Offensive coordinator Marty Mornhinweg believes that down the road McNabb could be a "first-ballot Hall of Famer." The resume speaks volumes. McNabb owns virtually every passing record in franchise history. He's been to five Pro Bowls. He's played in five conference title games - only four quarterbacks have started in more. McNabb has won nine playoff games; only seven can top that. He's one of only six players in the league annals to throw for more than 25,000 yards and rush for more than 3,000. McNabb's regular season record is the third-best among active quarterbacks with 100 starts. No quarterback with at least 2,000 career attempts has had a lower percentage of his passes intercepted than McNabb.
If there was any question that after two seasons lost to injury and a third getting back in rhythm that McNabb could once again be an elite quarterback, Super 5 is alive and well and ready to fulfill his dream of bringing home a Super Bowl championship in Philadelphia.
"We have personal expectations of our own. I think those are the things that you work hard to get to and to achieve," McNabb said. "Each individual person wants to be the best at what they do, but, most importantly, the thing that they want, when they play in any sport, is to win a championship."