Inspired by the life lessons taught from his high school football coaches, defensive end Victor Abiamiri is helping his brother, Rob, give back to their native city of Baltimore.
During Abiamiri's junior year of high school at the Gilman School, author Jeffrey Marx followed the team coached by Biff Poggi and, 13-year NFL veteran and former Baltimore Colt, Joe Ehrmann.
Marx turned his experience into the Pulitzer Prize winning novel, "Season of Life: A football star, a boy, a journey to manhood".
The book documents how Poggi and Ehrmann train high school kids to become men. They install values such as accepting responsibility, leading courageously and enacting justice on behalf of others.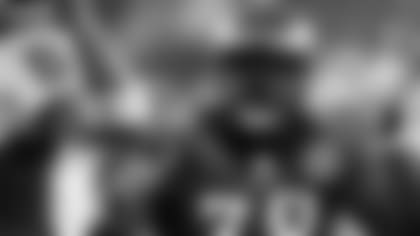 Abiamiri's coaches at the Gilman School taught more than just X's and O's
The coaches do not ever cut players because of athletic ability and they play all of their seniors. Even with that game plan, the Greyhounds have achieved great success. Victor was the All-Metro Defensive Player of the Year on the Gilman squad that was ranked 14th in the nation in 2002 by USA Today.

"It is not about how much money you have or what kind of car you drive or material things," Abiamiri said of what he learned from the coaches. "It's really about what kind of brother, what kind of father, what kind of husband you can be to other people. It's really about building a man to help other people. That's really what they based it off of and they used football as their tool to do so."

Young men often have ideals of what Ehrmann calls "false masculinity" which is based on athletic ability, sexual conquest and economic success. Ehrmann believes these should not be the measurements of manhood, but rather a "strategic masculinity" comprised of relationships and having a cause beyond oneself.

Empathy, inclusion and integrity are preached by Poggi and Ehrmann over toughness to their players.

Now, Rob Abiamiri along with a few of his former teammates from the University of Maryland started a camp for kids in Baltimore called Elite Edge Sports. During this past offseason, Victor worked with his brother, helping to train kids of all ages to become better athletes. They run kids through drills and help them lift weights in the hopes of giving them a positive outlet and to promote fitness.

"I definitely want to get involved in the community and help out, especially back in Baltimore were I'm from," he said.

With the proper values and willingness to make lives better for others, Abiamiri could eventually expand the community outreach program around Baltimore and into Philadelphia.

"Eventually I want to make it up to that level but for right now I'll start small, see how that goes and work my way up," he said. "I'm lucky enough to have my brother spear heading everything and getting the ball rolling on that so I can go in and help out."

Thanks to the wisdom of two high school football coaches, an old school philosophy is being passed on to the next generation.