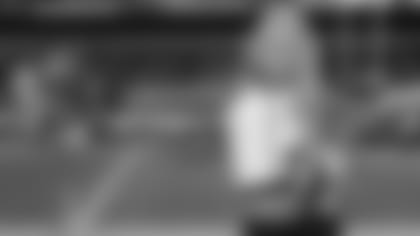 Looking to do something new this year? Being a part of a team is just one of the many New Year's Resolutions you can keep when you're an Eagles Cheerleader. Pilar has been an Eagles Cheerleader for two seasons and knows first-hand how important it is to be a part of something so special.
"It was always a dream of mine," said Pilar. "When I finally reached the age of 18 and graduated from high school, I went for it. I gave the auditions all that I could because I wanted to be a part of the squad more than anything."
Pilar accomplished her goal of becoming an Eagles Cheerleader, and has gained so much throughout her past two seasons on the team.
Have you been a part of other dance or cheer teams before?
"I have trained in dance my whole life and I was a part of a dance company growing up. Back in high school, I was on my school's dance team for four years, and I gave cheerleading a try as well. I was also a member on my college's dance team during my freshman year."
What is the most valuable thing you've learned from being an Eagles Cheerleader?
"As one of the youngest Eagles Cheerleaders, I learn something new every day on the squad. The most valuable lesson I've learned thus far is to be myself and how important it is to be to be confident in my own skin. Women come in all different shapes, sizes and personalities. Being a part of the team has made me realize that it is each of our unique qualities and characteristics that when combined, make us so dynamic."
What is something that you and your teammates like to do together?
"Many of us like to go out to eat together and just chat ... for hours! We always have incredible stories to share with one another because as members of the squad, we are involved in so many interesting and exciting experiences."
How do you contribute to the team the most?
"I enjoy making others smile and laugh so you can always count on me to have a positive attitude. I provide a sense of fun, while not losing sight of the hard work involved in being a part of such a prestigious team. I also pick up choreography relatively quickly!"
What is the most important part of being on a team (in your opinion)?
"It's important to empower one another to do our best and be the absolute best version of ourselves. Teamwork is one word with a huge meaning."
How do you get through a tough rehearsal as a team?
"There are always going to be tough rehearsals every now and then because we are learning a lot of choreography in a short period of time and we are expected to execute it flawlessly. Remembering that the main goal of rehearsal is to perfect our routines so that we can ultimately provide great entertainment for Eagles fans on gamedays enables us to focus on what we need to accomplish. Let's take it again from the top one more time!"
What is the biggest lesson you've learned from being an Eagles Cheerleader?
"If you truly want something with all of your heart, you should never give up under any circumstance. Even if it takes you years to achieve your goal, don't ever get discouraged."