The Eagles waived guard Sua Opeta on Friday. Signed by the Eagles as a rookie free agent in 2019, Opeta played in 26 games, including playoffs, over the past three seasons, including seven contests in 2022. He was inactive for the past nine contests.
Head Coach Nick Sirianni said earlier on Friday that quarterback Jalen Hurts is "trending in the right direction" for Sunday. Hurts was a limited participant on Friday and is questionable for Sunday's game.
Five players are out for the Eagles: linebacker Shaun Bradley (wrist), tackle Lane Johnson (groin), cornerback Avonte Maddox (toe), defensive end Janarius Robinson (ankle), and defensive end Josh Sweat (neck).
The Giants listed four players on their game status report.
Linebacker Azeez Ojulari (ankle) and defensive tackle Leonard Williams (neck) are out. Cornerback Adoree Jackson (knee) is doubtful. Center Jon Feliciano (back) is questionable. Both Feliciano and Jackson were limited on Friday.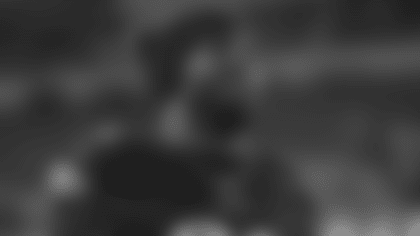 Thursday was a great afternoon for defensive end Robert Quinn with his 21-day practice window open after he underwent a procedure to repair a knee that was twisted in practice and sent him to the Injured Reserve list for four weeks. Quinn is back on the field with the defense, hopeful that he will be activated and ready to help the Eagles in the near future, whether that's on Sunday against the Giants or when the postseason begins.
"It felt good to be out there, to be out there with the fellas," Quinn said. "I'm here to do my part and keep this team moving in the right direction. They brought me over here for a reason. Hopefully, I can do what expected me to do when they brought me here.
"I felt great. Got a chance to loosen up the bones a little bit and get to hang out with the guys on the football field. I'll just keep working my craft this weekend and we'll see what happens come Sunday."
The Eagles sent the Chicago Bears a fourth-round draft pick in 2023 for a player who recorded 18.5 quarterback sacks in 2021 and was voted to the third Pro Bowl of his outstanding career. Quinn played just 43 defensive snaps in five games for the Eagles before suffering the knee injury.
Even though the numbers weren't much for a player with 102 career quarterback sacks in 168 games played – Quinn had two tackles in the five games – he felt he was playing good football.
"The numbers weren't there, but I felt like I was doing alright," he said. "That's in the past, whatever. Hopefully, come Sunday, I can get back on track."
There's still been no definitive answer regarding Jalen Hurts' status for Sunday, but an upbeat feeling of optimism reverberated through the locker room after Thursday's practice. Though limited, A.J. Brown said Hurts had pep in his step throughout.
"We are all excited to see him back. He is locked in for sure. He definitely had a tempo about him today," said Brown. "He was telling guys, 'Come on, hurry up!' I'm glad he's back."
Here's Thursday's official injury report:
Jalen Hurts (right shoulder)
Janarius Robinson (ankle)
Zech McPhearson (illness)
For the Giants, two key defensive starters in edge rusher Azeez Ojulari (ankle) and defensive lineman Leonard Williams (neck) did not participate in Thursday's practice. Center Jon Feliciano (back) and cornerback Adoree Jackson (knee) were limited, while defensive tackle Dexter Lawrence (rest) and safety Xavier McKinney (fingers) were full participants.
Quarterback Jalen Hurts' status for Sunday's game against the New York Giants remains unclear, as Head Coach Nick Sirianni says Hurts is "day by day. We don't have to make a decision yet, and we're going to see how this week goes and see how today's walkthrough goes of everything. Tomorrow, we'll see a little bit more because we'll be more than a walkthrough – we'll be practicing and so we'll get a better idea here in the next couple of days."
Hurts was listed as a limited participant in the Wednesday walkthrough. He suffered a right shoulder injury in the December 18 25-20 win over Chicago and has been rehabbing the injury since then as Gardner Minshew started in games at Dallas and on Sunday against the New Orleans Saints.
There are some positive developments in other Eagles injury news ...
• Defensive end Josh Sweat rejoined the team in the NovaCare Complex after suffering a neck injury in Sunday's loss to the Saints. He was loaded onto a stretcher and taken off the field by cart as the crowd roared and the players from both teams offered their support. After a precautionary visit to a local hospital, Sweat was released and indicated in a social media post that he would return to the playing field this season. Sirianni said that Sweat is "day by day" and that he returned to the NovaCare Complex with a smile on his face and "would probably be bugging me to play." That remains to be seen, but the sight of Sweat was certainly welcomed. "I'm glad he's back in the building with his teammates," Sirianni said.
• Also day by day is cornerback Avonte Maddox, who suffered a significant toe injury in loss at Dallas on Christmas Eve. "I'm not going to put a timetable on him," Sirianni said. "I know he's getting better as it goes. I know he's been in there (team's athletic training room) rehabbing and so not sure when we'll get Avonte back. We're hopeful that we get him back, but not sure when that will happen."
• The practice window has been opened for safety C.J. Gardner-Johnson, Sirianni said. Gardner-Johnson suffered a lacerated kidney in the November 27 win over Green Bay and has since missed five games. The Eagles have 21 days to either activate Gardner-Johnson to the 53-man roster or keep him on Injured Reserve for the remainder of the season.
• Defensive end Robert Quinn's practice window has also been opened, Sirianni said. Quinn underwent knee surgery and was placed on IR on December 6. Quinn played in five games and took part in 43 defensive snaps with Philadelphia since the team acquired him in a trade with Chicago just prior to the NFL's trade deadline in early November.
• Same goes for offensive lineman Brett Toth, who is on the team's Physically Unable to Perform list. Toth played a career-high 11 games last season before suffering a knee injury in the regular-season finale against Dallas.
• As for Wednesday's injury report, Lane Johnson (groin) and cornerback Zech McPhearson (illness) did not practice along with Maddox and Sweat. Three players, including Hurts, were limited – linebacker Shaun Bradley (wrist) and running back Miles Sanders (knee).
• Four players missed practice Wednesday for the Giants – center Jon Feliciano (back), defensive tackle Dexter Lawrence (rest), linebacker Azeez Ojulari (ankle), and defensive lineman Leonard Williams (neck). Cornerback Adoree Jackson (knee) was limited and safety Xavier McKinney (fingers) was a full participant.