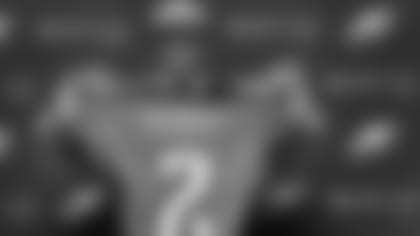 Lifelong Eagles fan Vinny Curry was overwhelmed with emotions when he was drafted by the Eagles in the second round of the 2012 NFL Draft out of Marshall. Curry was a standout player at Marshall, earning the 2011 Conference USA Defensive Player of the Year award as senior. Curry tallied 11 sacks, seven forced fumbles and 22 tackles for a loss that season. Last year, Curry set career highs with nine sacks and four forced fumbles.
First Jersey: Allen Iverson, Philadelphia 76ers
Person He'd Like To Have Dinner With: His mom
Collects: Jordans (over 600 pairs)
Curry has been an Eagles fan ever since he can remember and it all started with Ricky Watters. Curry originally wanted to play running back because Watters was his favorite player.
"I have pictures and jerseys all over my house. It was such a special moment for me to get drafted by the team I've rooted for all my life," Curry said.
The draft was a big day for Curry, but for him, it was even better to be able to watch one of his favorite players, Brian Dawkins, retire as an Eagle. At just the very beginning of his career, Curry watched on as Dawkins spoke to the crowd and felt honored to be there as an Eagle.