Jalen Carter and Nolan Smith climbed the stairs in the NovaCare Complex auditorium on Friday evening for the first time as Eagles. They shared a handshake, smiling, before sitting down at the podium to meet the Philadelphia media.
It was muscle memory – they situated themselves just like they've done many times before on the University of Georgia's defensive line, Carter to Smith's left.
The pair was greeted with booming cheers and applause, but this time it wasn't Bulldog faithful celebrating their National Championship-winning team. Instead, it was their family members, Eagles Season Ticket Members, front office staff, and coaches welcoming them with open arms to Philadelphia.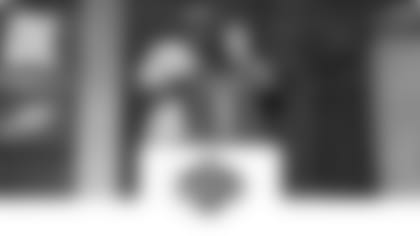 Eagles Draft Sweepstakes
Enter to win an autographed item from our 2023 NFL First Round Pick.
For a 22-year-old embarking on the first full day of his professional football career, seeing a friendly face in an NFL building can make a world of difference.
For Carter and Smith, who were selected No. 9 and No. 30 overall, respectively, from the University of Georgia in the first round of the 2023 NFL Draft, joining Philadelphia's team meant more than reuniting with each other. It brought them back to two of their best friends, Jordan Davis and Nakobe Dean, who the Eagles selected in the 2022 NFL Draft.
"I'd say it was amazing for me just because not only one of my favorite teammates, not only one of my most athletic teammates is here. But man, we have a lot of boys, a lot of Georgia Philly Dawgs, and it's going to be great," Smith said.
"I'm blessed just to be here. I'm blessed to be here at any point, to have this opportunity, and I would say I got the best opportunity of them all – I'm playing with three of my teammates, and I just won back-to-back National Championships with this one."
As Georgia Bulldogs, Carter, Davis, Dean, and Smith won the 2021 National Championship together, holding Alabama to just 18 points. Carter and Smith went on to win a second one to conclude the 2022 season, handily defeating TCU 65-7.
Smith is certain their chemistry will translate quite nicely from Sanford Stadium to Lincoln Financial Field.
"JC knows – all of the time, when I looked to my left and shook my head, he knew what I was talking about. That's just that on-the-field connection from playing with him for two years," Smith said.
Off the field, Dean and Smith were roommates. Their relationship first blossomed as freshmen living together in a dorm. At the time, both were pursuing a degree in engineering; their bond grew through study sessions that often lasted past 2 AM, preparing for a class that would start just six hours after.
During their tenure in Athens, their friendship only grew – Smith even ensured that Dean and Davis were on-site at his draft party to take part in his special night.
"That's my best friend, and he's my roommate, and that connection piece at Georgia is real. It's not lip service for us," Smith said.
Then, he looked to Carter.
"This is really my brother next to me, and I mean that when I say that."
Carter, who was the Eagles' top pick in this year's draft, confided in Davis, the Eagles' top pick in 2022, throughout the week via text and FaceTime in anticipation of Thursday.
"He's just a good guy to talk to. I could talk to him any time. I can call him any time of the day, any time of the night. He's just my guy and I love that man," Carter said.
Davis and Dean were similarly elated for the opportunity to play with their friends again – Davis in attendance at their introductory press conference, and Dean taking to Twitter to express his excitement.