The year was 2019. A small dorm room on the University of Georgia's campus in Athens housed three young athletes who would one day become highly touted draft picks in the NFL.
But at the time, Nolan Smith, Nakobe Dean, and Travon Walker were just freshman, balancing the typical woes of first-year college students, while pushing to make a difference on Georgia's defense.
Smith and Dean both started their tenure at Georgia as engineering majors, which is no easy feat when paired with the demanding football schedule of an SEC school.
They spent many late nights awake with their textbooks, cramming for their strenuous slate of science, math, and gen-ed classes each day.
"Me and him studied till about 2 o'clock in the morning and woke up the next day for 8 o'clock class," Smith said.
"And we just did our whole freshman year and we came real close. We did some study halls, just me and him, and I just realized that he's kind of really like me."
The two really are similar. Smith started as a civil engineering major, but switched to mathematics while Dean pursued mechanical engineering due to his interest in prosthetics.
Despite the variance in schedule, at the end of their first year, Smith and Dean were in lockstep, each having played in all 14 games on Georgia's defense. They even shared Defensive Newcomer of the Year honors at the team's annual postseason awards gala.
The linebackers' brotherhood grew throughout college, peaking when they won the 2021 National Championship, and it's remained steadfast since.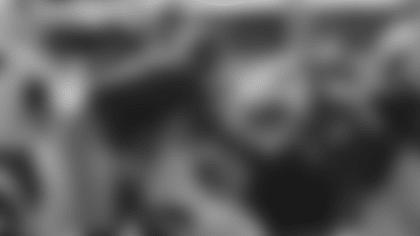 Dean was present and grinning at Smith's draft party in April – that's where the two learned their paths would persist in the same direction.
The Eagles selected Nolan Smith at No. 30 in the 2023 draft, reuniting him with Dean, who was chosen 83rd overall by the team in 2022.
Smith's first-round selection muted "numerous" doubting voices who'd told him he was too undersized to break into the professional scene, or that his pectoral injury in 2022 would be limiting.
All of that outside noise didn't affect him much anyways. He's always played with a chip on his shoulder – but it's one that he placed there himself.
"That's one thing that I always try to do. Play bigger than myself. Try to strike blocks harder, try to just be a little bit more aggressive than a lot of other people," Smith said.
"It's my chip. No one else put that chip on my shoulder. I put it on myself just to really better myself and better my game and just not listen to outside noise and always try to be the complete best player I can be."
In 2022, Smith had compiled 18 total tackles and a team-high 16 QB hurries before suffering a season-ending torn pectoral in October against Florida. He pushed through eight plays after the original injury, hoping he had just thrown his shoulder out of its socket, before Coach Kirby Smart pulled him out of the game.
Despite his mounting disappointment to miss the remainder of the season, which would ultimately result in another national title for Georgia, Smith focused his energy toward rehab, outpacing expectations.
"I just channeled my competitiveness into my rehab," Smith recalled. "So every day I tried to do like at least 100 dumbbell curls. And at a certain point I couldn't even do certain movements. And then the next week I was doing the movements. They were like, 'Man, you're progressing really fast.' And I'm just like, yeah I just go home and rehab."
He attributes his tough, head-down, determination to his upbringing in Savannah, Georgia, where his mother raised him and his brothers on her own.
"(I learned it from) my mom and just being in a hardworking family," Smith said. "My grandparents are 65 and they still get up every day and go to work a 7, 8 AM."
Smith started playing football at 4 years old, causing his mother some worry at first. That is, until he earned the nickname "Headhunter."
"She didn't like it at first," Smith said. "But then when she realized I can hang, and I got a little nickname called the 'Headhunter,' she felt safe enough to let me continuously go out there."
In his younger years, Smith played on both sides of the ball, but he quickly realized it wasn't "his forte." When explaining his affinity for defense, Smith says he doesn't like being the nail. He likes being the hammer.
"I like to deliver," Smith said.
He believes his ability to do so is influenced by his mathematic aptitude. Smith is quick to recognize patterns in opposing team's schemes, and isn't often rattled while manning the backfield.
"Just realizing that they did this formation again and again and they're doing only running a certain couple plays out of this formation. A lot of offenses get into smoke and mirrors to get in the same thing," Smith said.
As an Eagle, one of Smith's first goals is to establish trust among his new teammates. Luckily, he has a head start with Jalen Carter, Kelee Ringo, Jordan Davis, and, of course, Dean.
"I've seen that at Georgia that a guy pushes extra for you if you have a connection with him. I feel like I can learn a lot from the older men, because that's something that I want to do in my life as far as being a father and playing football, and my kids playing football and seeing me play football," Smith said.