There is a definite pattern here, one the Eagles are sticking with after some years of success: Productive players who have talent, love the game, have versatility and upside, and compete in Power 5 collegiate environments jump out in the scouting process. One night after taking Georgia teammates Jalen Carter and Nolan Smith in the first round of this 2023 NFL Draft, the Eagles moved around a bit on Friday night, added a pair of later-round draft picks (one in the sixth round, No. 188 overall, and one in the seventh round, No. 230 overall) and used two to select players they think will come in and compete for playing time.
With back-to-back picks in the third round, the Eagles took Alabama left tackle Tyler Steen, listed as an offensive lineman here, at No. 65 overall, and then picked Illinois safety Sydney Brown – a "red star" player, said General Manager Howie Roseman, indicating that a member of the evaluation staff named Brown as a favorite player in the draft – at No. 66.
The Eagles have spent a whole lot of time preparing for this draft and they feel great about where they are after three rounds. Here is the scouting report on the four newest Eagles, courtesy of those who spent all of those hours studying the players ...
Alan Wolking, director of player personnel on DT Jalen Carter (No. 9 overall)
"Jalen immediately stands out going back to from when we were looking at Jordan (Davis, Eagles' first-round draft pick in 2022) and Nakobe (Dean, Eagles' third-round draft pick in 2022), 88 (Carter's jersey number) kind of explodes off the tape. It's the dominance along the line, it's the ability to shed blocks and create pressure. He's staring you in the face, even as a young player. He can do every aspect of the job extremely well. His ability to penetrate and create pressure, his ability to restrict run lanes, and then the interior pressure is really kind of a separator, a differentiator.
"Jalen stood out on that great defense with his brute physicality. There are just so many 'whoa' plays. It's the way he does it. Georgia had so many effective players and Jalen just has a different 'oomph' to him. He's a very hard worker. We go to practice and we watch the guy and the way he has trained, but there are things in his body that are hard to come by. He's very developed. This is a guy who plays multiple techniques along the line. You watch him face all types of blocks and he has multiple ways to escape blocks. This is a guy who has more than just brute force."
Alec Halaby, assistant general manager on LB Nolan Smith (No. 30 overall)
"Really athletic guy. Very talented. This is a guy who was a five-star player coming out of high school, gets to Georgia and is a starter on two national title teams. The unique thing about him – we think about the speed, we think about the explosiveness as a pass rusher – in the run game he's very violent, very physical, extremely high effort. I think that's a unique combination.
"You feel his energy when you're watching him play and when you meet him in person. He isn't the biggest guy, but he overcomes that with speed, with quickness, with twitch, very much like Haason Reddick and he will be a great example of someone to learn from. He has all the traits that give him a very good chance to succeed. He's been playing at the highest level since he's been 15, 16 years old. It's a unique package what you're getting on the field with the explosiveness and that talent, and what you're getting off the field from an experience and intelligence standpoint."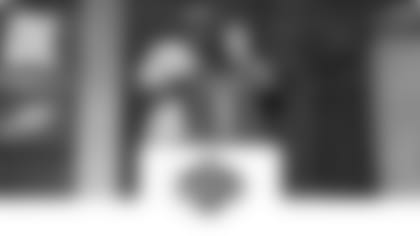 Eagles Draft Sweepstakes
Enter to win an autographed item from our 2023 NFL First Round Pick.
Brandon Hunt, director of scouting on OL Tyler Steen (No. 65 overall)
"We're excited about Tyler. He's an offensive lineman who presents a lot of versatility. He played at Alabama after starting his college career at Vanderbilt and he's new to the position. He played defensive line in high school and then he went to Vanderbilt and played there and then bet on himself and in this new portal era, transferred to Alabama and earned a starting left tackle job and played at a high level.
"We get excited about building our team through the offensive and defensive line. They're the first guys off the bus. He's going to add competition to the room – we've got some Bama boys in that room – and he's going to play a lot of positions and get into that mix. We're going to put the best players on the field and he's going to have an opportunity to compete and that's going to be awesome. This kid was raised well; he's a military kid – his dad is a Marine – and he's not afraid of competition. We know what we're getting. Alabama kids are competition-ready because they're fighting every day at practice. He played violent, he played athletic. He's got good movement, he's got good feet – all of the traits that we look for – and then Coach (Jeff) Stoutland works his magic and makes them into Philadelphia Eagles and that's what we're excited about."
Chuck Walls, director of player personnel on S Sydney Brown (No. 66 overall)
"First and foremost, great kid. He has a great work ethic and that shows on the field. You're talking about a kid who was a five-year starter at a Power 5 school and he performed at a high level and every year, this year, specifically, he took the ball away. He's violent. He's a good all-around player. They did a little bit of everything with him at Illinois, which is exciting and that matches the intellect of the player. He played split safety, he played in the post, he played in the box, they blitzed him, they man him up in the slot – they did a lot of things with him. That versatility is a plus and, at the end of the day, you can't ever have enough guys who can do more.
"He's powerful. When he closes ground, he can uncoil from his hips. He can really put force through contact and for a guy who is built the way he is (5-foot-10, 194 pounds), he can really move his feet. I spent a lot of time with him in the pre-draft process. He did very well in interviews, he was very sharp, he came across as very diligent, he's very time-oriented. He's a wonderful young man who is a really great teammate who was a captain this year. He loves the game and you can see that on tape."
Four players drafted. Four more (as of this moment) to go – one in the sixth round and three in Round 7 – and then the critical post-draft period. It's been a terrific first two nights and the Eagles know more work is ahead. A formula is in place and a draft's third day is one for the scouts and the process. There is more talent to mine, more competition to add to a roster that has already taken a significant leap forward for 2023 and beyond.