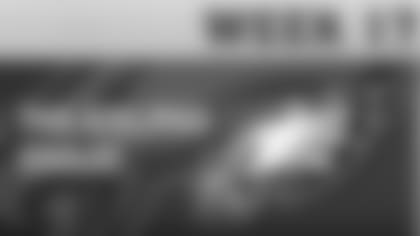 2011 Record: 9-7, 1st Place in NFC East and Super Bowl Champions
Overall Series Record: 75-83-2
Record At New York Giants: 34-46-1
Last Meeting At Site: Nov. 20, 2011 - Eagles, 17-10
Game Recap: Vince Young led the Eagles on an 18-play, 80-yard drive that culminated in the go-ahead 8-yard touchdown pass to Riley Cooper with just 2:45 remaining in the game to stun the Giants. On that drive, the Eagles converted six third downs. Jason Babin sealed the win with a sack and forced fumble that was recovered by Derek Landri.
Key Offseason Moves
In: TE Martellus Bennett, S Chris Horton, OT Sean Locklear, LB Keith Rivers, CB Terrell Thomas, P Steve Weatherford, RB David Wilson, WR Rueben Randle, CB Jayron Hosley, DT Rocky Bernard
Out: RB Brandon Jacobs, WR Mario Manningham, CB Aaron Ross, TE Jake Ballard
There might be no better place for the Eagles to finish the regular season than their home-away-from-home at MetLife Stadium, where the team owns a perfect 2-0 record.
First, the Eagles had the Miracle at the New Meadowlands in 2010 which was simply one of the all-time great comebacks and finishing plays. Last season, Vince Young rallied the team for a fourth quarter, come-from-behind win.
The Eagles have to face the team that most players would call their biggest rival knowing that they took home the Lombardi Trophy in 2011. In addition to taking on their biggest rival, the Eagles could possibly have a chance to win the division, secure playoff seeding or, maybe, knock the Giants out of the postseason altogether.
Every game in Week 17 is currently slotted for a 1 PM start, but if there is anything of significance on the line don't be surprised to see this moved to either a 4:15 national start or, even better yet, a prime time 8:30 kickoff.
This has everything in place to potentially be an epic regular season finale. The storylines would be endless. Then again, maybe the Eagles will be 15-0 resting their starters for the playoffs?