Every time Chip Kelly hits a new milestone as Eagles head coach, he's asked to compare life in the NFL to life as a college football coach. And every time he's asked, Kelly rebuffs the notion of there being much difference. Football, he says, is football.
So following his first NFL game, a 31-22 loss to the New England Patriots, Kelly knew what was coming. Yes, there might have been some shell shock for the rookies on the field as they adjusted to the speed of the game in their professional debuts. But for Kelly? It was business as usual.
"I think you just focus on the game itself," Kelly said. "It's 11-on-11."
Friday night's installment of full-speed 11-on-11 featured a usual mixture of positive and negative moments for Kelly's Eagles. On the plus side, there was the performance of his two quarterbacks. Mike Vick and Nick Foles both led touchdown drives in their continued competition for the starting role.
"I thought they both did a good job," Kelly said. "Nick, unfortunately we had that fumble, I think we had a protection breakdown ... but then he came back and put a good drive together and they both got us into the end zone. I was very pleased with the way they both played.
"It gave me confidence in both those guys ... I think both those guys rose to the occasion."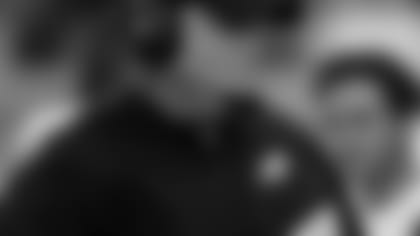 Foles will start the second preseason game, a 7:30 PM tilt next Thursday against the Carolina Panthers at Lincoln Financial Field. How much longer will the competition rage on? Kelly said he will name a starting quarterback before the team begins to game-plan in earnest for the season opener against the Washington Redskins. That means a decision will come, at the latest, shortly after the final preseason game.
The positive takeaways for Kelly also include the team's overall attitude.
"I liked our effort," said Kelly. "I liked how hard our guys played, but there are obviously fundamentals that we need to continue to work on as a group. I like their attitude. There are a lot of guys in there that I'm very pleased (with). They didn't take this as, 'It's just a preseason game, it doesn't matter.' ... So I like their mindset and I like their effort. I think the fundamental part of the game is what we have to continue to work on as coaches. We'll do that and we get back to practice on Sunday."
The fundamentals Kelly mentioned certainly correlate with the opening play from scrimmage Friday night, when Patriots running back Stevan Ridley took a handoff 62 yards up the middle of the Eagles defense. The Patriots' first-team offense scored 14 points in their two possessions.
Meanwhile, the intrigue surrounding Kelly's offense continues as the Eagles march toward the regular season. How much of what the Eagles showed Friday night will correlate to the offensive we'll see when the games count?
"I think your offense, there's a scope of offense that you have in for the total year, but then you always have to pare it down in terms of game plan, your specific game plan based on the fronts and coverages that the team you're going to play utilizes because you can't practice everything, you don't have enough time," said Kelly. "Every week it's going to be slightly different because everybody we play is slightly different."
Against the Patriots, the offense mixed in different formations and bouts of up-tempo play.
"I think it'll be a weapon for us," Kelly said of the sporadic fast-paced play. "Like I said, it's a tool in our toolbox. For what we have the ability to play fast with, I think they handled that pretty well for the first time really out in a game situation."
Oh right, this was the first game in a new system for a slew of veterans and the first professional game for 22 players on the roster. But why is it that their adjustment period does not apply to Kelly?
"I also didn't play," Kelly said. "I think some of those guys were a little more fatigued than I was on the sidelines."
Finally, the Eagles suffered a few injuries on Friday night. Long snapper Jon Dorenbos suffered a concussion (which led to Kelly's decision to eschew all field goals in the second half). Linebacker Chris McCoy (knee), linebacker Jamar Chaney (shoulder) and Casey Matthews (knee) all left the game as well.