Nick Foles has never exactly been considered fleet footed. During last year's pre-draft process, Foles ran a 5.14-second 40-yard dash at the NFL Scouting Combine, the slowest time of the 14 quarterbacks timed that day. So he knows that, despite head coach Chip Kelly's insistence that speed is nowhere near the top of a list of ideal qualities for a quarterback, you might think Foles and Kelly are not quite an ideal match. Foles knows this, he just doesn't much care.
"Chip hasn't defined an offense, just up-tempo," Foles said Wednesday. "I remember playing against him in college and it was up-tempo and I believe that whoever the quarterback is, whoever's the leader of the team, you build the offense around that. You know, I feel like I can go in there and run anything. I love this team. I'm getting to know the coaches and I'm here to compete. This team's here to achieve the same goal, and that's win and I'm just ready to compete."
Though he worked his way into a starting role as a rookie and led the Eagles to the team's only win in the final 12 games of the 2012 season, Foles expected nothing less than to once again compete for a starting role. So when the Eagles re-signed Michael Vick, retained Trent Edwards and signed Dennis Dixon and G.J. Kinne, Foles was unfazed.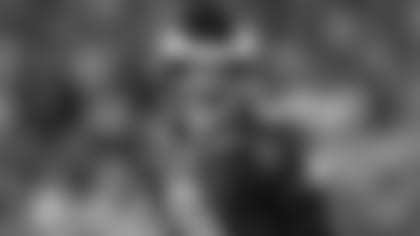 "I think that Michael's a great quarterback and I think that on a team, you want the best quarterbacks possible to compete against one another and Mike's one of the best in the league and I believe that," Foles said. "We want competition and I'll keep saying it, we're all on the same team, we're all going to compete against each other."
Just don't think Foles' welcoming of competition means he doesn't want the starting job or that he doesn't think he'll win the starting job. At quarterback, Foles said, confidence is a vital asset.
"I feel like if you want to be a quarterback in this league or in pee-wee or something, you have to think, 'I'm the guy.' If you think you're going to be a backup, you're going to be a backup," Foles said. "That's how it is ... Every single quarterback on this team believes that he can be the starting quarterback, and that's what you want. That's what you want on a team, you want competition, and the same goes with receivers, same goes at every position. I guarantee you there's not a guy here that doesn't think he's the guy and you have to have that mentality when you go to work.
"I know that I believe I can be a starter in this league and be a starter on this team, but like I said before, every single quarterback on this team believes that. That's how you have to approach every day."
There's also no lacking of confidence in Foles in the Eagles locker room.
"Nick Foles is a special player, " said DeSean Jackson. "Even though he's big and lanky, I still think he's able to have mobility to sling the ball, move up in the pocket and different things like that. He's an Arizona guy, so I know he's familiar with the Oregon offense and things like that … He's a great quarterback; he's done some great things last year to come in, stepping in for Michael Vick, and just give us the chance to go out there and still compete and compete at a high level. I think he'll be fine. "
So Foles has been working hard to prepare himself for the competition ahead. That includes focusing often on footwork and foot speed, an area where he knows there's room for improvement.
"I think with your work, you have to have a great attention to detail and really work on your flaws," Foles told PhiladelphiaEagles.com. "Put your ego aside and know what you need to work on and don't work on the things you're great at. Keep toning those, but work on your flaws. The one thing that I've always worked on is foot speed, because I know that at a young age my feet weren't extremely fast, so I keep working on that every year and you gain a little bit every time you work on it."
As for how his fit in whatever becomes of Kelly's offense, Foles has a better sense now that he's finally been able to talk football with Kelly and the rest of the coaching staff. Without giving away specifics, Foles said he believes any reservations about the fit between quarterback and coach are misguided.
"I feel like I fit in great with it. I'm excited. So far I'm loving it," he said. "I'm just excited to keep learning more and going to work with the guy so we can all put it together on the field.
"I wouldn't be right here right now if I didn't (think I fit well). I would be somewhere else. So yeah, I believe I fit here and I want to be here and I love this team and I love this city, so yeah, this is where I want to be."