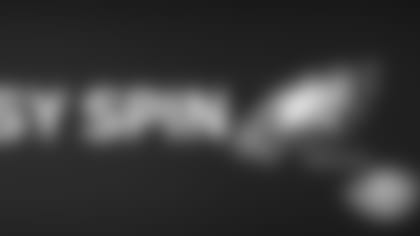 Joe Dolan is the managing editor of FantasyGuru.com and a host for SiriusXM Radio. A former writer for PhiladelphiaEagles.com, Joe still contributes to the site with on-camera segments and written columns. He can be heard hosting "SiriusXM Fantasy Football Gameday" every NFL Sunday from 1-7 PM on Sirius 210, XM 87.
It's almost fantasy playoff time. What teams down the stretch have the best and worst schedules for fantasy production?
For the purposes of this analysis, I'm going to consider Weeks 14 through 16 as the typical fantasy playoff weeks – the default setting on most free fantasy sites is to end the playoffs a week early to account for teams potentially resting their starters in Week 17. So winning a fantasy title isn't based just on good luck with injuries, a good draft and the right waiver pickups – it's also about isolating the best matchups to exploit and the worst matchups to avoid.
Miami Dolphins: Lamar Miller and Jay Ajayi have struggled to get a whole lot going, at least on the ground, on a consistent basis. But they have one of the NFL's best ground-game schedules from Weeks 14 through 16: at home against the Giants, at San Diego and at home against Indy.
Jacksonville Jaguars: So far this year, T.J. Yeldon's tape has been far more impressive than his fantasy production. But that could change with a solid run down the stretch: at home against the Colts and Falcons, then a glorious matchup at New Orleans in Week 16.
Indianapolis Colts: The Colts' backfield may be a little more complicated than we'd hope, given Frank Gore's dings and dents and the re-emergence of Ahmad Bradshaw. But if either guy here takes hold of the backfield, the run at Jacksonville, vs. Houston and at Miami is enough for some serious fantasy juice late in the year.
New Orleans Saints: Drew Brees and Brandin Cooks have been on absolute fire, and there's a phenomenal chance it continues – at Tampa, then home games against Detroit and Jacksonville in Weeks 14 through 16. It's a good run to get Willie Snead back in the action, as well. It's hard to imagine a fantasy quarterback having a better run to end the season than Brees.
Jacksonville Jaguars: Blake Bortles has been one of the best streaming QBs in all of fantasy, and I'm listing the Jaguars here for one solitary reason – the Jaguars play the Saints in Week 16, the best matchup on the board for championship weeks (though Rob Ryan has been fired). Bortles' matchups with the Colts and Falcons in the previous two weeks gives Allen Robinson tricky matchups with Vontae Davis and Desmond Trufant, but they're not bad enough matchups to scare me away from this team in general.
Detroit Lions: Matthew Stafford has shown signs of life of late. You may want to avoid him against the Rams' pass rush in Week 14, but he gets the Saints and 49ers in Weeks 15 and 16. Obviously, Calvin Johnson is in your lineup every week, but a guy like Golden Tate could be in play as your WR3 with some of those positive matchups.
Atlanta Falcons: Oof. Did you just see what the Panthers did to the Cowboys on Thanksgiving, even before Tony Romo got hurt? Well, Matt Ryan hasn't had a particularly good season, and then his top target Julio Jones has to face off with star cornerback Josh Norman in Weeks 14 and 16. Those who have Julio are simply going to have to suck it up and use him, but this matchup will be enough reason to avoid Ryan as a quarterback streamer.
Baltimore Ravens: Everyone is hurt on this team. Running back Buck Allen was one of the priority waiver adds of the week, but he gets one of the NFL's nastiest three-game stretches with matchups against the Seahawks, Chiefs and Steelers.
Pittsburgh Steelers: The Ravens' secondary is exploitable in Week 16, but the run defense is strong. Also, the Steelers travel to Cincy in Week 14 and get the Broncos at home in Week 15, two tough matchups across the board. Obviously, you have to suck it up with this powerful offense, but it could be a tough go of it for DeAngelo Williams.
As we stand now, there are two unbeaten teams left in the NFL - the 10-0 Patriots and the 11-0 Panthers. The Panthers will have at least a two-game lead for the No. 1 seed in the NFC by the time this weekend is over, and potentially a three-game lead if the Cardinals lose to the 49ers. The Patriots play Brock Osweiler and the Broncos this weekend, with the chance to create a three-game gap in the AFC, though the Bengals are also in the mix for the No. 1 seed at 8-2.
The Panthers, in particular, have a favorable schedule down the stretch, but they could be locked into homefield advantage as early as Week 15 with how well things are going so far. You have to ask: will Cam Newton play full games if Carolina is locked in? If he plays, will Ron Rivera try to curb Newton's rushing attempts? Will the oft-injured Jonathan Stewart get rest?
Bill Belichick has a history of not resting his starters, but it burned him with a Wes Welker injury in 2009. While it's impossible to make any definitive statements on these two teams for another couple weeks, we certainly must keep our eyes on them. It can really ruin the fantasy year for teams Cam and Tom Brady have carried.
I can assure you that Rivera and Belichick do not care about your fantasy team.
(Note: These options are my rankings for the non-obvious starters at each position. Rankings are based on PPR scoring.)
FantasyGuru.com's Week 12 Mid-Level Flex Rankings
Running Back
Wide Receiver
Tight End
13.Tevin Coleman, Falcons
25.A.J. Green, Bengals
7.Delanie Walker, Titans
14. T.J. Yeldon, Jaguars
26.John Brown, Cardinals
8.Crockett Gillmore, Ravens
15.Lamar Miller, Dolphins
27.Martavis Bryant, Steelers
9.Julius Thomas, Jaguars
16.Chris Ivory, Jets
28.Willie Snead, Saints
10. Heath Miller, Steelers
17.Danny Woodhead, Chargers
29.Travis Benjamin, Browns
11.Kyle Rudolph, Vikings
18.Giovani Bernard, Bengals
30.Cecil Shorts, Texans
12.Travis Kelce, Chiefs
19. Latavius Murray, Raiders
31.Anquan Boldin, 49ers
13. Coby Fleener, Colts
20.Chris Johnson, Cardinals
32.Stefon Diggs, Vikings
14.Ben Watson, Saints
21. Shaun Draughn, 49ers
33.Kamar Aiken, Ravens
15. Antonio Gates, Chargers
22.Jeremy Hill, Bengals
34.Jeremy Maclin, Chiefs
16.Jacob Tamme, Falcons
23. Antonio Andrews, Titans
35.Marvin Jones, Bengals
 
24.Spencer Ware, Chiefs
36.Sammy Watkins, Bills
 
QB: Brian Hoyer, Texans – Rob Ryan is gone, but opposing quarterbacks have torched the Saints all year and we can't imagine all their woes will be gone with just a firing.
RB: Buck Allen, Ravens – The schedule gets tougher for Allen in a couple weeks, but use him against the Browns this week while he's pretty certain to get volume. Hopefully, he catches a bunch of passes.
WR: Amari Cooper, Raiders – One catch last week, but count on a bounce-back against a banged-up Titans secondary.
TE: Gary Barnidge, Browns – It's Josh McCown, which is excellent news for Barnidge.
QB: Tyrod Taylor, Bills – Taylor was a fun fantasy option early in the season, but his numbers have totally collapsed of late and now he's banged up with a tough matchup against the Chiefs.
RB: Matt Jones, Redskins – The fumbles are way too big an issue, and Alfred Morris should play this week.
WR: Kamar Aiken, Ravens – He may continue to get volume, but what does that mean with Matt Schaub at quarterback?
TE: Jordan Cameron, Dolphins – He scored last week but he's been a ghost all season, and the Jets are a difficult matchup.