We're only a couple of hours from the start of the 2023 NFL Draft and the NovaCare Complex is buzzing. It's a well-oiled operation, a choreographed exercise in being prepared for a long and intense weekend. Howie Roseman has been here all day and he's ready. He is standing outside the team's Draft Room, aware of the opportunity that is in front of the Eagles. With picks 10 and 30 tonight, Philadelphia enters this draft in a position of power.
So, Roseman has his thoughts on how tonight might go. It is a process he has been through many times.
"You've got to get yourself ready for it. It's kind of like a night game for us, so you don't want to peak too soon. I'm not gonna lie, I didn't sleep too well last night just because of the excitement," Roseman said. "I know all of our fans are excited. We're excited, too. You get through the day. You get a little workout. You try to see a little of the family and then you get here, and there are a lot of phone calls during the day.
"We're certainly prepared. We have a really good process and we understand scenarios. It never goes exactly as you want, but we are prepared for all of those scenarios, and I think we'll come out of it really improving our football team."
Is it possible to really, truly know how this is going to play out? All we've heard for weeks is that the top of this draft is going to be wildly unpredictable. The Eagles are experts at keeping their plans to a scant few, so the predictions for what Roseman might do have been all over the place.
What are the Eagles going to do? They have options, that's for sure.
"I don't think anyone necessarily knows what we're going to do," Roseman said. "I think we do the same thing people do about us: They go, 'Hey, this is what their history says they're going to do, we probably can assume that's what they're going to be doing,' but I like to think we keep people off guard a little bit. I think, for us, we're just going to do what we think is right for our team. Whatever anyone else might think is right for their team, they should do what's right for their team. We're going to do what's right for our team. I'm excited about that opportunity."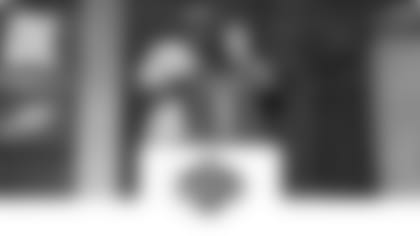 Eagles Draft Sweepstakes
Enter to win an autographed item from our 2023 NFL First Round Pick.
Roseman knows the Eagles can only control what they can control. They've assigned values for the players. They have their board arranged. They feel extremely confident in the plan they have in place and for the curveballs that are undoubtedly going to come their way.
"We just have to feel strongly about what we're doing," Roseman said. "We value that 10th pick. I don't know what other teams think about the pick, the value of it. We know that when our time comes and we're on the clock, we are going to be ready."
Ready to ... add to the football team. Make the roster a whole lot better. They've been preparing for this weekend for 11 months, and the truth is it comes down to trusting all that work that has led to this moment.
Trust. Preparation. Opportunity.
A team that won 16 games and advanced to Super Bowl LVII in the 2022 season has the 10th pick in the 2023 NFL Draft. That's an amazing situation and the Eagles intend to maximize it starting tonight in Round 1.
"You want to make sure that you understand the value that you have on the players and at the end of the day, all you can do is control what is your option, what are the scenarios you've gone through and I'm very confident that we've done that," Roseman said.
Here it comes, Night 1 of the 2023 NFL Draft. Roseman and the Eagles are ready and soon we'll learn the plan. A night of action is ahead of us all and the Eagles, as much as any team in the league, enter knowing the path to a big roster upgrade is right in front of them.