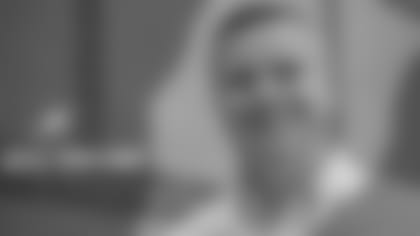 Vice President of Marketing Brian Papson has years of experience working in both professional and collegiate sports. His experience brought him to the Eagles in 2013 to oversee all marketing, branding and the execution of fan initiatives. 
Brief job description: Our marketing team is responsible for all marketing and branding messaging, designing and executing fan engagement programs, enhancing the gameday fan experience* (tailgating, HeadHouse Plaza activities, in-game entertainment), conducting and analyzing research programs and managing the special performance groups (Eagles Cheerleaders, SWOOP, Drumline and Eagles Pep Band).*
Where are you from? I grew up in Exton, Pennsylvania and attended Downingtown High School.
What college did you attend?For my undergraduate degree, I attended Susquehanna University, where my major was PR Communications and I minored in business. I got my graduate degree from Villanova University in Business Administration.
How did you get your start in the sports industry? I first started by volunteering in the Susquehanna University Sports Information Director's office.  I followed that by attaining an internship and eventually a full-time job with the Philadelphia Phantoms in the American Hockey League. At the time, they played at the old Spectrum.
Any other jobs in the sports industry prior to the Eagles? Other positions I have held in the sports industry include:
Director of Marketing for the Philadelphia Phantoms
Director of Marketing and Sales at United Sports Training Center
Director of Marketing & Branding in Villanova University's Athletics Department
Director of Marketing at Spurs Sports & Entertainment (San Antonio Spurs - NBA, San Antonio Rampage - AHL, San Antonio Stars – WNBA, AT&T Center, Austin Spurs – NBAD)
How has technology impacted your career? Over the course of my career, technology has had a huge impact. The biggest innovation and advancement has been social media. Word-of-mouth advertising is the most influential form of marketing. Viral messaging has amplified everyone's voice, making all testimonials and customer experiences instant public knowledge. Obviously this can work both in a positive and negative manner, therefore you need to do everything within your power to ensure everyone has a great experience.
Who is your mentor in business?Frank Miceli, he is currently the Senior Vice President of Sales and Franchise Business Operations at Spurs Sports & Entertainment. He gave me the opportunity to start my career in the sports industry back with the Phantoms and gave me another opportunity to work with him at Spurs Sports & Entertainment. He has taught me the values of hard work, honesty and passion for family and work. A great person who works tirelessly and is one of the most passionate people I've ever met. 
What is the best part of your job?Being able to make life-long lasting memories for our fans. Not many jobs give you the opportunity to create experiences that people remember forever.
What is the most challenging part of your job? The biggest challenge is maintaining a work-life balance.
What advice would you give to someone who wants to work in sports? Be patient, yet persistent. The sports industry is very difficult to get into and often requires people to take an internship and grow gradually. Remain patient; you won't be able to run the place when you first start. However, remain persistent in your quest to grow – *volunteer, ask questions, offer solutions – *and make yourself invaluable.
Were you once an athlete yourself? Yes, I played both football and baseball throughout high school and college.   
What is your favorite part of gameday?I have two:
Kickoff - The game is scoreless, the fans are pumped. There isn't anything better than being on the field for kickoff.
"Fly, Eagles, Fly" after touchdowns – Everyone singing in unison.
Favorite Eagle of all time and why:Reggie White, the Minister of Defense. He was not only a dominant player, but he was also a true role model. I still remember going to the bookstore in Exton with my mom and waiting in line to meet him and get his book signed. I still have that book.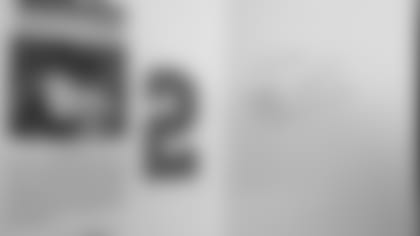 Favorite memory on the job:Snow Bowl – It was truly a once-in-a-lifetime experience. The unexpected weather and the win.  A tremendous experience.
Favorite Eagles game:Detroit Lions vs. Philadelphia Eagles- *Saturday, December 30, 1995at* Veterans Stadium in the 1995 NFC Wild Card Playoff Game. **The Eagles won 58-37.
The Eagles dominated Barry Sanders and the Detroit Lions. It was winter break of my freshman year in college and early in the week I drove down to Veterans Stadium and bought two tickets. I took my younger brother down with me. We sat in the lower level and in the corner of the west end zone. I'll never forget William Thomas intercepting a pass and returning it for a touchdown right in front of us. It was a madhouse.  Unbelievable memories.