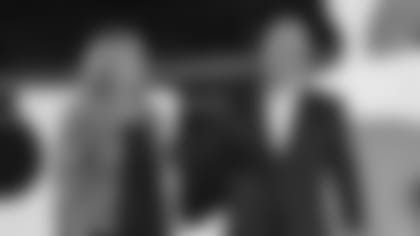 Eagles Chairman/CEO Jeffrey Lurie announced that the Eagles Charitable Foundation (ECF) will be making a $1 million donation to the autism support programs at Children's Hospital of Philadelphia and the research programs at CHOP's Center for Autism Research. The announcement was made at last night's inaugural Taking Flight for Autism fundraiser at Lincoln Financial Field. In addition, more than $300,000 in net proceeds from the event will also be donated.
The entire Eagles organization was on hand for the event, including players, coaches and front office executives. They joined approximately 700 guests who purchased tables to support the cause. Attendees enjoyed a cocktail hour and dinner on the field, as well as a full program of football talk and speeches from Jeffrey Lurie, Doug Pederson and Christina Weiss Lurie, president of Eagles Charitable Foundation. Former Eagles quarterback Rodney Peete was also on hand to share his family's experience raising a child with autism.
"There is a lot we all can still learn about autism and that is why we believe in the importance of providing financial support to leading institutions who are already doing amazing work in this area," said Jeffrey Lurie. "One of those leading institutions is the Center for Autism Research at Children's Hospital of Philadelphia, and we could not be more pleased to partner with them on this cause."
Studies show that autism spectrum disorder is one of the fastest-growing developmental disorders in the United States, affecting approximately one in 68 children, and yet the causes are not yet fully understood.
A growing body of research shows that the earlier a child is diagnosed with autism and begins accessing services, the better their outcomes are later in life. CAR is conducting research to discover the earliest "biomarker" or signs of autism, as well as developing novel treatments and therapies, with the ultimate goal of improving the quality of life for people with ASD not just in childhood, but over the course of a lifetime.
"The Center for Autism Research at the Children's Hospital of Philadelphia conducts research, provides support for patients and families challenged by ASD, and trains clinicians in best practices in autism treatment. This very generous donation by the Eagles Charitable Foundation will have a positive impact on our ability to achieve significant breakthroughs for children and families," said Madeline Bell, president and CEO of the Children's Hospital of Philadelphia. Eagles Charitable Foundation (ECF) is a 501(c)(3) public charity that serves thousands of low-income children in the Greater Philadelphia region every year with a focus on improving health outcomes. ECF's mission is: Using our unique platform to provide children in the Philadelphia region greater access to vision care and autism research and services. For more information visit www.philadelphiaeagles.com/community