The Philadelphia Eagles organization, through its work with Eagles Youth Partnership (EYP), was chosen from a field of sports organizations from around the entire world to be shortlisted for the Sports Team of the Year Award. The two other organizations vying for this Award are (1). Manchester United for Something to Chew On, United Kingdom and (2). Hapoel Tel Aviv FC for Mifalot Chinuch, Israel.
Beyond Sport is a global organization that promotes, develops and funds the use of sports to drive positive social change across the world. Its three main drivers are an online global network, an annual summit and the Beyond Sports Awards program, which provides support to projects across the world that use sports to address issues within their communities.
Operating in more than 115 countries and open to organizations in the U.S for the first time this year, Beyond Sport was flooded with applications from 350 organizations. The awards will be presented at the Global Beyond Sports Conference to be held in Chicago from September 28 to 30, 2010.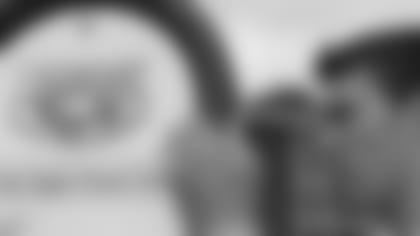 Eagles Youth Partnership's Annual Playground Build has created safe play spaces for children in the Philadelphia area
Jeffrey Lurie, Philadelphia Eagles Owner/CEO remarked, "The announcement of the nomination alone is a remarkable moment for this entire organization. Every member of this team has contributed to our community programs. Social justice is an integral part of who we are and we believe it makes us a better organization."
Christina Lurie, Philadelphia Eagles co-owner and EYP board President shared, "We are greatly appreciative of the worldwide recognition that Beyond Sport has given Eagles Youth Partnership. To be among so many exceptional organizations that use the universal attraction of sports to make the world a better place, is truly a humbling experience."
Philadelphia Eagles President, Joe Banner added, "At its inception, Eagles Youth Partnership was about improving the lives of children in the region who are faced with many challenges. Our goal was to find a way to have an immediate and ongoing impact. One of the things I am most proud of is that EYP has found a way to be in underserved neighborhoods almost every day of the year." Banner, who will be serving on a panel discussing urban violence during the Summit added, "We look forward to hearing about other programs that have made a positive impact in communities similar to ours. This is a unique opportunity to have a positive impact on a grand scale."
Commissioner Roger Goodell stated, "The NFL clearly understands the strength and power of sports to change the world for the better. For the Philadelphia Eagles to be recognized among international peers for their work with children is both an honor and tribute to the ownership and leadership of this organization. We are particularly pleased to note that, thanks to the Eagles, the NFL has the only U.S sports team shortlisted in any category."
Eagles Youth Partnership was founded in 1995 as a 501(c)(3) public charity. The organization helps kids to reach their potential, bringing health and educational resources to more than 50,000 children each year who are facing "4th & long" odds. Leveraging the brand and resources of the Philadelphia Eagles Football Club, EYP provides comprehensive vision care, literacy programs and safe spaces for children to thrive.
"We believe that the shared passion for a sports team has the ability to evaporate divisions, galvanize neighborhoods, and encourage altruism among those in the broader community. Our aim is to tap into this passion in order to mobilize the resources and efforts of caring individuals and organizations towards helping children to reach their full potential," offers Sarah Martinez-Helfman, Executive Director of Eagles Youth Partnership.
The Award winners- to be selected by the internal panel of Beyond Sport Ambassadors, chaired by former Prime Minister Tony Blair, will be announced on the final two days of the Summit. Grant awards will be given in the nine Beyond Sport Community Awards categories. The winners will receive $15,000 each and a substantial package of business support to help them grow and become sustainable in the future.
Beyond Sport is partnered with Barclays Spaces for Sports, TIME International, UNICEF and United Airlines.