Defensive end Vinny Curry has a long history of Eagles fandom that started well before he was drafted in 2012. Curry was a second-round pick, drafted 59th overall by the Eagles, a dream come true for the Neptune, New Jersey native.
Growing up so close to Philadelphia, it is only natural that Curry was an Eagles fan. His family influenced him most when it came to his love for the team. Like most kids, Curry had his fair share of Eagles memorabilia. In fact, one of his first jerseys was that of No. 36 Brian Westbrook, a recent inductee to the Philadelphia Eagles Hall of Fame.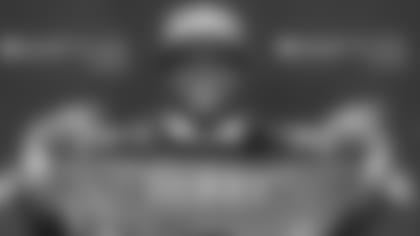 As a young athlete, Curry looked up to his idol, Ricky Watters, and wanted to play running back. As he grew up, Curry's game started changing as he morphed into the defensive end he is today. Curry's loyalties, however, remained the same.
After a great college career at Marshall, Curry waited anxiously on Draft Day to hear his name.
"It was a feeling that you can't explain," said Curry. "There was a little expectation for it, but when (the Eagles) went and got Fletch (Cox) I thought they were pretty stacked at the time, so I didn't think they would make the trade with Green Bay to come back up."
The brand new Eagle was drafted just a day before Eagles Hall of Fame safety Brian Dawkins retired, and he was lucky enough to attend the ceremony.
"It was just great to see him and his teammates, and the way they value each other," said Curry.
Dawkins even gave Curry an important piece of advice – stay hungry.
Curry did stay hungry. Having never made it to Veterans Stadium as a kid, Curry's first Eagles game was as a member of the team.  
"It was very exciting," said Curry. "It was a preseason game against the Pittsburgh Steelers. I had six tackles or something like that, three for a loss. I was just out there having fun."
As Curry looks back on the past few years, he relates to the fans with one of his favorite memories as an Eagle – the 2014 #BlackSunday Giants shutout. The hometown boy from Neptune, New Jersey is a true Eagles fan at heart, cheering on his team and working hard to be a great Eagles defensive lineman.