The Philadelphia Eagles today announced they were honored at the 2011 Philadelphia Business Journal's Corporate Philanthropy Summit with three out of a possible four first-place corporate philanthropy awards this morning at the Sheraton Center City.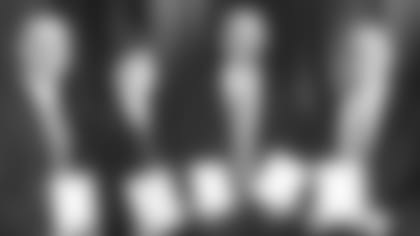 From left: Senior Vice President/Business Ari Roitman, Eagles Youth Partnership Executive Director Sarah Martinez-Helfman, Chief Operating Officer Don Smolenski and Senior Vice President/Chief Marketing Officer Tim McDermott
They captured first place in the following categories: Top Cash Donor ($871,811), Top In-Kind Donor ($3 million), and Top Community Impact Award. They also earned third place recognition for their commitment of employee volunteer hours. The Philadelphia Business Journal annually honors the most philanthropic companies in the Philadelphia region.
Said Eagles Owner and Eagles Youth Partnership President Christina Lurie: "It's gratifying to be acknowledged for generosity, but our true measure of success is in the impact we make -- in the lives of children, of breast cancer survivors, and in the environment."
On Wednesday, Eagles Youth Partnership also received recognition, for their 15 years of service, with a citation from the School Reform Commission during its monthly public meeting at the School District of Philadelphia.
Eagles Youth Partnership serves more than 50,000 children in need throughout the Philadelphia region each year with programs such as Eagles Eye Mobile, Eagles Book Mobile, and Annual Eagles Playground Build. The Philadelphia Eagles also generate money and awareness for breast cancer research and remain on the cutting edge with their Go Green initiatives that benefit the environment.