Former All-Pro linebacker Jeremiah Trotter and longtime play-by-play announcer Merrill Reese will be inducted into the Philadelphia Eagles Hall of Fame on November 28, when the team hosts the Green Bay Packers on Monday Night Football. Chairman and CEO Jeffrey Lurie made the announcement at tonight's Taking Flight for Autism event at Lincoln Financial Field.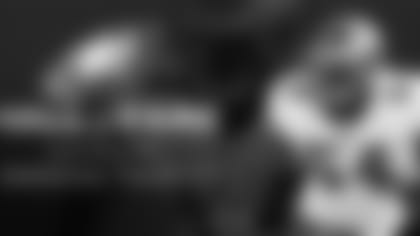 Trotter played eight of his 11 NFL seasons with Philadelphia (1998-2001, 2004-06, 2009), earning two All-Pro selections and four Pro Bowl nods over three stints in midnight green. Nicknamed the "Axe Man," Trotter is one of only four linebackers in franchise history to produce at least four Pro Bowl seasons, joining fellow Eagles Hall of Fame members Chuck Bednarik, Maxie Baughan and Bill Bergey.
"Jeremiah Trotter embodies everything we strive for as an organization," said Lurie. "He was an emotional and inspirational player who captured the hearts of our fans. As an anchor of our defense, he led with an immeasurable amount of toughness and a fiery attitude."
Considered the "pulse" of Philadelphia's dominant defense in the early 2000s, Trotter helped guide the team to three NFC East crowns and five playoff appearances, including two NFC Championship Games and a berth in Super Bowl XXXIX. He recorded five 150-plus-tackle seasons with the Eagles, leading the team with 202 tackles in his first full season as a starting middle linebacker in 1999. Trotter went on to anchor three Philadelphia units that ranked among the NFL's top-five defenses in fewest points allowed (2000-01, 2004).
Trotter amassed 1,065 tackles, 35 passes defensed, 12.5 sacks, eight forced fumbles, eight interceptions and three fumble recoveries in 127 career regular season and postseason games (106 starts) with the Eagles.
Originally selected by Philadelphia in the third round (72nd overall) of the 1998 NFL Draft, the Texarkana, Texas native was a consensus All-American and All-Southland Conference honoree at Stephen F. Austin State University.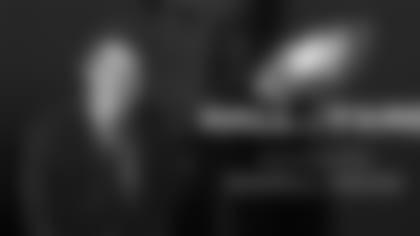 Gifted with an unforgettable sound and style that has become synonymous with the franchise's rich history, Reese is the longest-tenured play-by-play announcer in the NFL as he now enters his 40th season as the Voice of the Eagles. Since his first call from the radio booth in 1977, Reese has inspired generations of Philadelphia fans, earning local and national recognition as a premier sports broadcaster.
"When you think about some of the greatest moments in Eagles history, you can hear Merrill's voice, living and dying with every play, just like we all do," said Lurie. "What makes him so special, and so engrained in the fabric of our franchise, is how dedicated he is to the team, the fans and his job. Merrill is a legend, and he is the absolute best at what he does."
Already a member of the Pennsylvania Sports Hall of Fame, Reese was named Pennsylvania Sportscaster of the Year by the National Association of Sportscasters and Sportswriters in 2000 and 2008, as well as Broadcaster of the Year by the Pennsylvania Association of Broadcasters and Person of the Year by Broadcast Pioneers in 2005. Reese was also declared Philadelphia's Best Sportscaster by Philadelphia Magazine and was honored by the Philadelphia Sportswriters Association for the contributions he has made to the sports industry.
A graduate of Overbrook High School and Temple University, Reese, who resides in Blue Bell, Pennsylvania with his wife, Cindy, began his career as a public affairs officer in the United States Navy and started in the radio business at WPAZ in Pottstown, Pennsylvania following active duty.