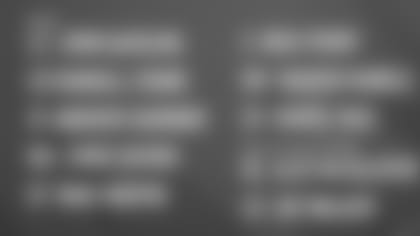 The Eagles waived the following eight players on Sunday: long snapper John DePalma, cornerback Randall Evans, offensive lineman Andrew Gardner, wide receiver Chris Givens, defensive tackle Mike Martin, safety Nick Perry, wide receiver Rueben Randle and cornerback Denzel Rice. In addition, the Eagles placed defensive end Alex McCalister (calf) and linebacker Joe Walker (knee) on Injured Reserve. With these moves, the Eagles have 73 players on the active roster and are below the 75-man limit ahead of Tuesday's 4 PM deadline.
Head coach Doug Pederson will discuss the moves at his press conference on Monday. We will carry that live on PhiladelphiaEagles.com and the team's mobile app beginning at 10:30 AM.
The preseason ends for the Eagles on Thursday when they host the New York Jets at Lincoln Financial Field. Following the game, the Eagles will have to get to the 53-player limit by 4 PM on Saturday.
Givens and Randle were added as free agents this offseason and have been listed atop the depth chart during the preseason. Givens made his first preseason catch in Saturday's win over the Colts, while Randle had 26 yards on five receptions in three games.
Defensive tackle Mike Martin worked with the first-team defense in the spring in Fletcher Cox's absence, but missed the preseason with a knee injury.
Andrew Gardner started 11 games over the past two seasons for the Eagles at right guard and right tackle.
Cornerback Denzel Rice made the Eagles' 53-man roster as a rookie free agent a year ago, while Randall Evans spent most of the season on the practice squad before being promoted for the regular season finale against the Giants.