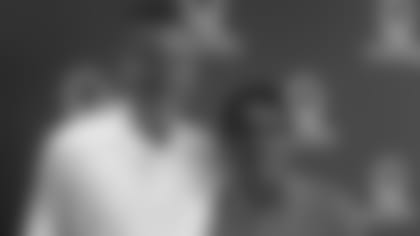 PHOENIX, Ariz. – Scott Jordan loves the Philadelphia Eagles. And he loves the NFL. The combination has given Jordan the opportunity to enjoy the trip of a lifetime.
A resident of Nazareth, Pa., Jordan (above, left in the photo) is one of two finalists competing for the championship of the Lenovo Fantasy Coach of The Year contest. A finalist in Lenovo's second-annual Fantasy Coach of the Year, Jordan is in Arizona and helped NFL alumni captains pick the 2015 NFL Pro Bowl squads on Wednesday night. Jordan then participated in Team Carter's first meeting following the draft Wednesday night and will attend practices on Saturday.
Jordan has been playing fantasy football for 24 years, and his fifth with NFL.com. Any league entered through NFL.com is entered into the Lenovo Fantasy Coach of the Year contest, and Jordan's team finished first among four million leagues with 10 teams in each league. His team went 17-0 and scored the most points – and rode the talents of Eagles quarterbacks Nick Foles and Mark Sanchez and the Eagles defense and special teams.
"It's been awesome. I spent Tuesday with Cris Carter and J.J. Watt and Antonio Brown and it was a great time," Jordan said. "I want to thank Mark Sanchez for helping me win this trip. We landed Sanchez and he came through for us, especially in Week 16."
Another key move for Jordan was bidding and winning in the auction-style draft the services of Dallas running back DeMarco Murray, who led the league in rushing in 2014.
"It wasn't easy being an Eagles fan and having him," Jordan said. "I was just trying to up the bid for a Dallas fan, and he backed out and I ended up with DeMarco and he had a great season. It all worked out."
On game day, Jordan and the other Lenovo Fantasy Coach of the Year Finalist, Federico Martinez (above, right in the photo) from the New England area, will submit their nine-player fantasy squad. Using NFL.com scoring, the Pro Bowl fantasy game winner will take home the Fantasy Coach of the Year trophy and be Lenovo's special guest at Super Bowl XLIX.
"If I win it, then it's awesome," Jordan said. "It's already been the trip of my lifetime. It's been a blast. Going to the Super Bowl would be icing."
TEAM ROSTERS: Just so you know who is on which team on Sunday night … return specialist Darren Sproles and long snapper Jon Dorenbos are on Team Irvin, while linebacker Connor Barwin, center Jason Kelce, left guard Evan Mathis and placekicker Cody Parkey will play for Team Carter.
Jason Garrett and the Dallas coaching staff are the official coaches for Team Irvin, while John Harbaugh and Baltimore's coaching staff will oversee the practice and game duties for Team Carter.
PAT CHALLENGE: Cody Parkey has a tougher assignment for Sunday's Pro Bowl game. The NFL is narrowing the goalposts, moving them from 18.6 feet wide to 14 feet wide. And as the league did early in the preseason, extra points will be moved back to the 15-yard-line, making them 33.5-yard attempts.
Kickers made 83.9 percent of all field goals in 2014 -- including 77.4 percent from 40 to 49 yards and 61 percent of field goals 50 yards or longer -- and 99.3 percent of extra points.
The NFL experimented with moving extra points back to the 15-yard line during the first two preseason games of 2014 and the results didn't change much -- only eight PATs were missed in 141 attempts (94.3 percent). By comparison, only eight extra points out of 1,230 attempts were missed during the 2014 regular season.