While watching the games on Sunday, you probably saw a player score a touchdown and kneel in the end zone to celebrate.
Did you know that the first player ever to do that was a member of the Philadelphia Eagles? Yes, Herb Lusk Jr. – the team's running back and kick returner from 1976-78 – offered the public display of his faith when he scored as a "thank you" for his recovery from a devastating knee injury.
"I hurt my knee in junior college and the doctors said I'd never play football again, but I put my fate in God's hands," Lusk told Ray Didinger in a previous interview, explaining the celebration. "I prayed every day and I knew if my knee healed, it was His will for me to continue playing."
That injury caused him to fall to the 10th round of the 1976 NFL Draft before the Eagles, led by a new Head Coach in Dick Vermeil, selected him despite being one of the country's most productive running backs out of Long Beach State. He arrived in Philadelphia with a nickname and a mandate. "The Praying Tailback" was only going to play for three seasons before following in the footsteps of his father, Herb, to join the ministry.
Despite being offered a contract extension and the chance to eventually play for a Super Bowl contender, Lusk followed through on his promise because he was called to something greater – Greater Exodus Baptist Church on North Broad Street, which is where he became a pastor in 1982 and impacted thousands of lives. He also served as the Eagles' team chaplain for over 20 years until his passing on Monday, September 19, at the age of 69, after a year-long battle with cancer. There will be a service on Friday, September 30, at The Met in Philadelphia that is open to the public.
A loving and dedicated husband and father, Lusk is survived by his wife, Vickey; his son, Herb III, who also followed him to the pulpit; two daughters – Danuelle and Laiah; and three grandsons.
"I don't know anybody in Philadelphia in all of my time being in and around Philadelphia who has been as influential as Herb Lusk," said Eagles Hall of Fame linebacker and longtime close friend Seth Joyner.
"If more of us did just a fraction of what he did in terms of affecting other lives, the world would be so much better," said Hall of Fame wide receiver and close friend Mike Quick.
Born in Memphis, Lusk grew up just a stone's throw away from the Lorraine Motel, where the Reverend Martin Luther King Jr. was assassinated in 1968. Lusk moved to Monterey, California, as a teenager during the race riots and became a standout running back at Long Beach State, where he was the nation's second-leading rusher with 1,596 yards and scored 16 touchdowns in 1975. His hallmark game as an Eagle came in 1977 when he rushed for 117 yards and two touchdowns, including a 70-yard scoring scamper that came against a Giants team that featured cornerback Ray Rhodes.
His success on the football field provided the runway to be a champion of the people.
Before he was ordained, Lusk's father provided his son with four pillars of wisdom that guided his ministry.
1. Never let anyone beat you believing in God
2. Never let anyone beat you serving
3. Never let anyone beat you giving
4. Never let anyone beat you loving
Lusk was drawn to the people and the City of Philadelphia and took over a Greater Exodus Baptist Church that had roughly 12 active members and was nearly $1 million in debt. Quick described Lusk as a "smooth talker" and was able to weave himself into every social circle within the city. He had Eagles players assist him in raising money and distributing meals for Thanksgiving. He connected with top philanthropists to support his charitable endeavors.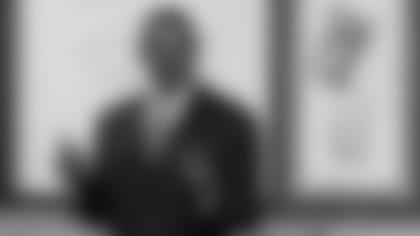 "He had that rare ability where there wasn't a single environment that you couldn't immerse him in because he was highly intelligent, very educated, extremely smart, and he could get down with the most intellectual people, but he could also get down to street level because that's where he came from," Joyner said.
"He could get people to sit and listen. He had a way when he got up to speak. The guy could really captivate an audience. He was one of those guys that didn't need notes. He could just get up and your eyes were on him because he gets your attention. He was very special in that way," Quick added.
In his 40 years with Greater Exodus Baptist Church, Lusk accomplished so much that his playing career is almost a footnote in his life.
• Lusk founded the nonprofit organization People for People, whose guiding mission is "to break the vicious, generational cycle of poverty in the lives of economically challenged residents of Philadelphia by providing them with positive alternatives to drugs, crime, and welfare dependency."
• He took over the Fredrick Douglass School in Chester, Pennsylvania, after it threatened to close in 2014, and it is now thriving under the leadership of Greater Exodus Baptist Church. In fact, it also houses the Grace Dental Clinic, which serves people in Chester who have no dental insurance.
• Lusk started a credit union in 2000 for people in North Philadelphia who did not have access to money.
• He embarked on missionary work in Africa.
• Lusk's work has been cited by President George W. Bush and President Bill Clinton, who have both visited Greater Exodus Baptist Church, as a role model for developing the inner city.
During this time, he also maintained close ties with the Eagles and became the team chaplain after Ray Rhodes, the former Giants cornerback, became the head coach in 1995. Lusk was with the team in Minneapolis for the Super Bowl, and despite his declining health, oversaw the first chapel service before the preseason opener last month.
"He was an Eagle through and through," Joyner said. "One of his greatest prized possessions with the Super Bowl ring. He wore it with a lot of pride. He wanted the best for the Eagles at all times. He loved the Philadelphia Eagles. He loved the City of Philadelphia. He loved what he was doing and he did it until there was no more breath left. He left his shell empty. He poured himself out to this city, to that organization, to humanity."
Just a few months ago, Joyner was visiting Lusk when the pastor was scheduled to speak at an event. Lusk needed about 20 minutes just to get his shoes on. Joyner wondered why Lusk would put himself through the agony when other ministers could speak on his behalf.
"I gave these people my word. They're counting on me," Lusk told him.
"He probably slept all the way there. Got up, set that place on fire with words of wisdom, and went back in the car and slept all the way on the drive home. That's how committed he was to his ministry, how committed he was to His Word, and the people that he gave his word to," Joyner recalled.
Greater Exodus Baptist Church is now flourishing with a fellowship of around 2,000 people and his son following in his footsteps.
"The biggest reason I'm proud of my dad is the people he's helped; the lives that he's changed. He never thought anybody was too high or too low to reach. I've seen him treat people on the street the same way he treated people in the White House," said Herb Lusk III. "He was approachable. He was a man of the people. My dad would always say to me that you're better than nobody else. You have received the unprecedented grace of God and because of that, it's your responsibility to give back. It's your responsibility. Your life is meant to help other people."
Additional reporting from Ray Didinger was used in this feature.